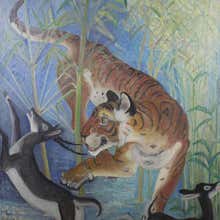 1893-1968
Orovida Pissarro, the only child of Lucien and Esther Pissarro, was the first woman in the Pissarro family to become a professional artist and the first Pissarro of her generation to take up painting. Born in Epping, England, in 1893, she lived and worked predominantly in London, where she was a prominent member of several British arts clubs and societies.
Orovida first learned to paint in the Impressionist style from her father and, after a brief period of formal study with Walter Sickert in 1913, she renounced formal art schooling.
Throughout her career, Orovida always remained outside mainstream British art movements. Much to Lucien's disappointment, she soon turned away from naturalistic painting and developed an unusual style that combined elements of Japanese, Chinese, Persian and Indian art. Her rejection of Impressionism, which, for the Pissarro family, was a way of life, and her simultaneous decision to drop her famous last name and use simply Orovida as a nom de peintre, reflected a desire for independence and distance from the family legacy, of which she nevertheless remained proud.
Orovida's most distinctive works are her paintings from the 1920s and 1930s in gouache (she called her mixture body color) and tempera, applied in thin, delicate washes to silk, linen, paper or gold leaf and embellished with brocade borders. These elegant and richly decorative works generally depict non-Western subjects, for example: Mongolian horseback riders, African dancers and Persian princes, often engaged in activities such as dancing or hunting rituals.
The second half of Orovida's painting career is marked by a dramatic change in both style and subject matter. In the mid-1940s, she began to embrace contemporary subjects from everyday life and returned to a more naturalistic style. Her new style was more suited to oils, and thus, she returned to that medium.
Over the course of her life, Orovida was aware of the mixed blessing of having famous artists in the family; not only a grandfather and father but also four uncles, and towards the end of her life, she was instrumental in developing the Pissarro family archive that her mother had established at the Ashmolean Museum in Oxford.
(Biography provided by Stern Pissarro Gallery)
Winter (The Skaters) by Orovida Camille Pissarro - Winter scene painting
Located in London, GB
Winter (The Skaters) by Orovida Camille Pissarro (1893-1968) Egg tempera on linen 91.5 x 114.3 cm (36 x 45 inches) Signed and dated lower left Orovida 1936-38 Literature K L Erickso...
Category
1930s Post-Impressionist Orovida Pissarro Art
Materials
Linen, Egg Tempera
Friends
Located in Austin, TX
Title: "Friends" Artist: Orovida Pissarro Medium: Etching on paper Size: 9.75 x 3.5" Year: 1922 Framed
Category
1920s Orovida Pissarro Art
Animal painting by Orovida Camille Pissarro titled 'Exercising Ponies'
Located in London, GB
Category
Mid-20th Century Modern Orovida Pissarro Art
Previously Available Items
Young Siamese Cats
Located in Fairlawn, OH
Young Siamese Cats Etching, 1946 Signed, dated and titled in pencil Dedicated in pencil - "To John Rewald from Orovida To Francis from John" Condition: Very good (aging) Provenance: ...
Category
1940s Modern Orovida Pissarro Art
Goat
Located in London, GB
Goat (c. 1917) Charcoal on paper 17.5 x 28.5 cm (6⅞ x 11¼ inches) This work came out of a sketchbook that Orovida who was the first granddaughter of Camille Pissarro, worked on in 1...
Category
Early 20th Century Modern Orovida Pissarro Art
Artists Similar to Orovida Pissarro