Poul Kjaerholm More Furniture and Collectibles
The average cost of an antique Poul Kjaerholm More Furniture and Collectibles is $7,330. The price can vary from $2,660 and $12,000 based on the condition, age, materials and aesthetic value for a specific Poul Kjaerholm More Furniture and Collectibles.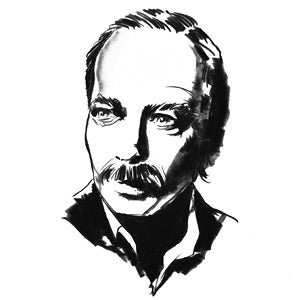 Poul Kjærholm (Denmark, 1929 – 1980)
A trained cabinetmaker, Poul Kjærholm's use of industrial methods and materials in the 1960s brought a fresh, graceful, sleek new style to Danish modern design.
     At Copenhagen's School of Arts and Crafts, Kjærholm studied under Hans Wegner and Jørn Utzon — an industrial designer and the architect of the celebrated Sydney Opera House. The latter greatly influenced Kjærholm's furniture production techniques — although he employed natural materials such as cane and leather, to a far greater extent than his peers Kjærholm embraced the use of steel (rather than wood) framing for his chairs and tables.
     Kjærholm's signal design was the PK 22 chair of 1956, a low-slung leather lounger on a steel base. The ideas introduced in the PK 22 — Kjærholm's designs were named using a numeric system devised with his manufacturer, E. Kold Christensen — were refined throughout his career, as the offerings below show: the PK 11 chair of 1957, with back and armrests formed by a semicircle of ash; the capacious, richly patinated leather seat of a vintage 1961 PK 9 chair; the elegant rattan swoop of the PK 24 chaise longue (1965). The chaise longue's leather headrest, held in place by a steel counterweight, best shows Kjærholm's particular gift for combining technological advancements with a respect for traditional detailing. While respectful of the past, Poul Kjærholm's sensibility is one of optimism and expectation. His was design for those who lived with verve and élan, and confidently anticipated the future.
R & Company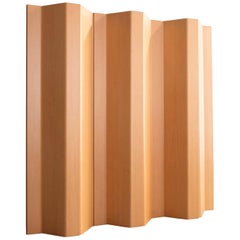 "Pk 111" Six-Panel Folding Partition in Laminated ...
Poul Kjaerholm, PP Mobler
21st Century and Contemporary Danish Home Accents
Wood
"PK 111" six-panel folding partition in laminated Oregon pine, designed by Poul Kjaerholm. Originally designed in 1956, produced by PP Møbler, Denmark since 1985.
Another Time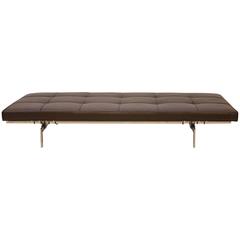 20% Off
Poul Kjærholm Daybed PK80
Fritz Hansen, Poul Kjaerholm
Early 2000s Danish Scandinavian Modern Bedroom Furniture
Stainless Steel, Leather
Classic PK80 daybed designed by Poul Kjærholm and manufactured by Fritz Hansen A/S. The very dark brown leather cushion is 3" thick and fits perfectly on the brushed stainless steel fra...
Zitzo Gallery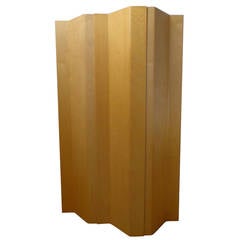 Poul Kjaerholm Screen PK 111 by PP Mobler
Poul Kjaerholm, PP Mobler
Vintage 1950s Danish Scandinavian Modern Home Accents
Wood
Offerd by Zitzo, Amsterdam: PK 111 is a laminated wood element, designed in 1956, that is assembled to produce freestanding partitions. Each element is constructed of two bent pieces of...