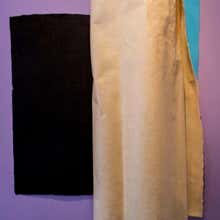 Spanish, b. 1955
Joseph Kosuth, father of conceptual art, once famously said: "Works of art that try to tell us something about the world are bound to fail [. . .] The absence of reality in art is exactly art's reality." This maxim, which is nothing if not radical, seems to govern the work of Rosa Brun, one of the most renowned artists in her native Spain.
Brun's creations are preoccupied above all with the effect of color on the spectator, through a sheer release of aesthetic enjoyment. Her work meanders from painting to sculpture (and back again) freely, without boundaries or constraints. In fact, there is in what Brun does a constant fusion, tension or even dissolution between these two media, creating a synergy that culminates in artistic works of visual and geometric abstraction.
Brun's work is extraordinarily inward-looking, almost withdrawn, concerned as it is with exploring the effects of her artistic creations on the senses (pigmentation, volume, light, shade, etc.). But if her work is muted, it is visually alive, capable of activating all of our senses as we contemplate the pieces before us. Through her art, Brun engages in a dialogue with space and architecture, and her work almost levitates above ground.
(Biography provided by nina menocal)
Artists Similar to Rosa Brun