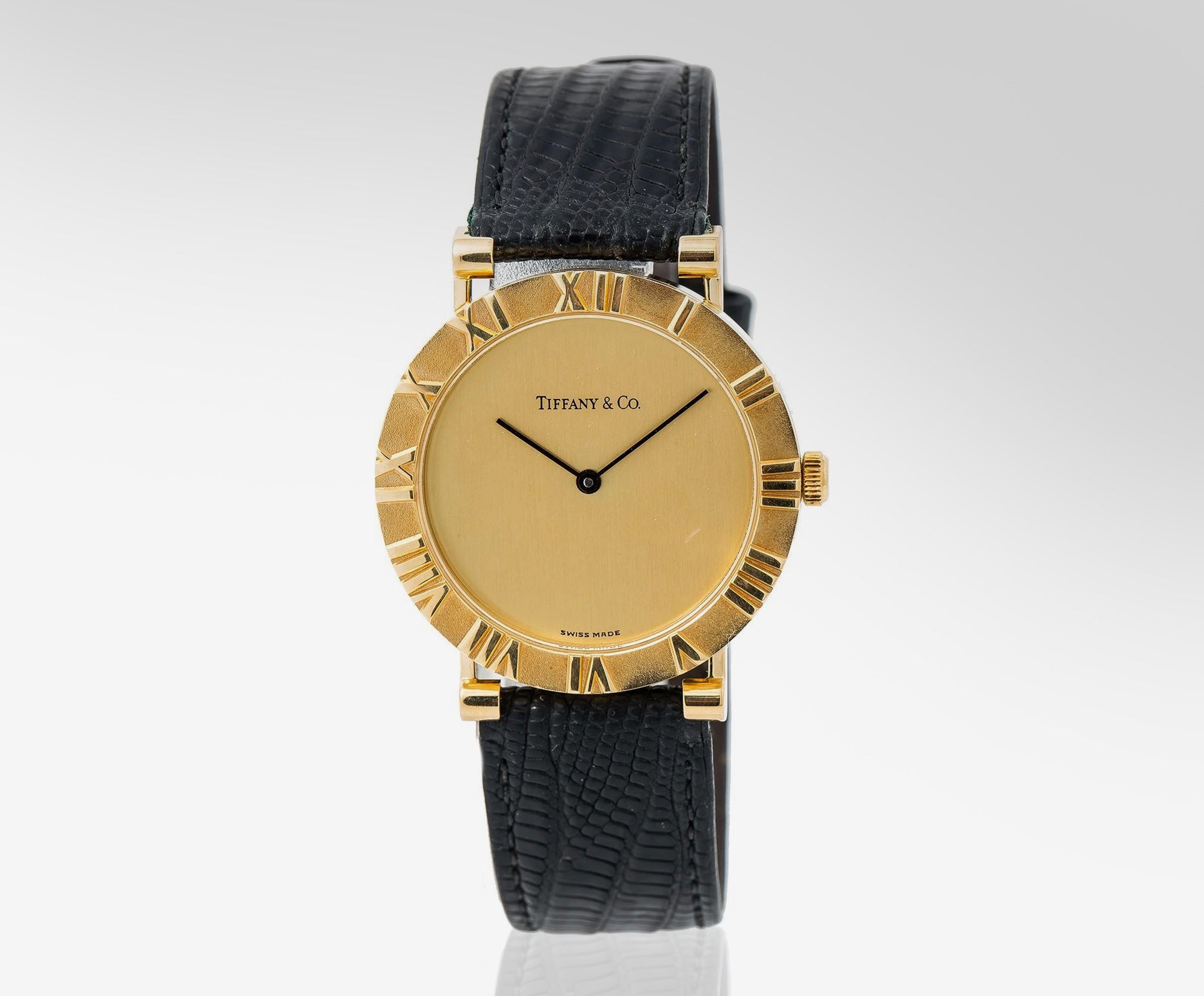 Iconic Designs
Atlas Watch
About the Design
Two decades after beguiling actress Audrey Hepburn made Tiffany & Co. a household name, the legendary luxury jeweler honored the icon that looks after its flagship store with the Atlas watch.
In the 1961 film Breakfast at Tiffany's, when Hepburn (as the beloved Holly Golightly) steps into the magical world of her favorite shop, she walks beneath a figure that dates from long before the company moved to its flagship Fifth Avenue building. Above the imposing limestone entrance to the store Tiffany & Co. has called home for decades looms a nine-foot statue of Atlas, bracing himself under the weight of an oversized, bronze-coated clock rather than a celestial sphere. The sculpture of the Greek god was an aptly horological interpretation, as the house's cofounder Charles Lewis Tiffany had been selling watches since the late 1840s. It was first mounted in 1853 at Tiffany's flagship on Broadway in downtown Manhattan. The statue traveled with the company to its next location, in Union Square, before settling in — or rather over — at the current Fifth Avenue store. 
Designed in 1983 by Tiffany design director emeritus John Loring (b. 1939), the original Atlas watch celebrated the company's historic Atlas figure, drawing stylistic inspiration from the clock in its arms and featuring raised Roman numerals in an elegant serif font reminiscent of those that adorn the clockface. The Atlas watch was modern and minimalist, and the house's ad copy description was appropriately spare: "In 14-karat gold with quartz movement and pigskin strap." 
Tiffany has introduced Atlas timepieces for men and women over the years across a wide range of styles. Today's Atlas watches run the gamut from metal to leather straps, with pink, blue and green dials and diamond-encrusted numerals. Vintage versions include square and round faces in stainless steel. Each one, however, shares the recognizable Roman numeral font from the clock carried by the Atlas statue, and they all operate on Tiffany's Swiss-made quartz movement. The company has expanded the Atlas collection beyond watches, having incorporated an Atlas ring, bracelets and pendants featuring the numerals, which are often abstracted to become more decorative motifs than they are functional numbers. 
For a brand whose flagship was once dubbed a "palace of jewels" by the New York Times, the Atlas watch is, indeed, an exercise in simplicity. Even the jeweled newer models exhibit a decorative restraint, honoring the beauty in the simplicity of the numerals on the world's very first mechanical clocks.