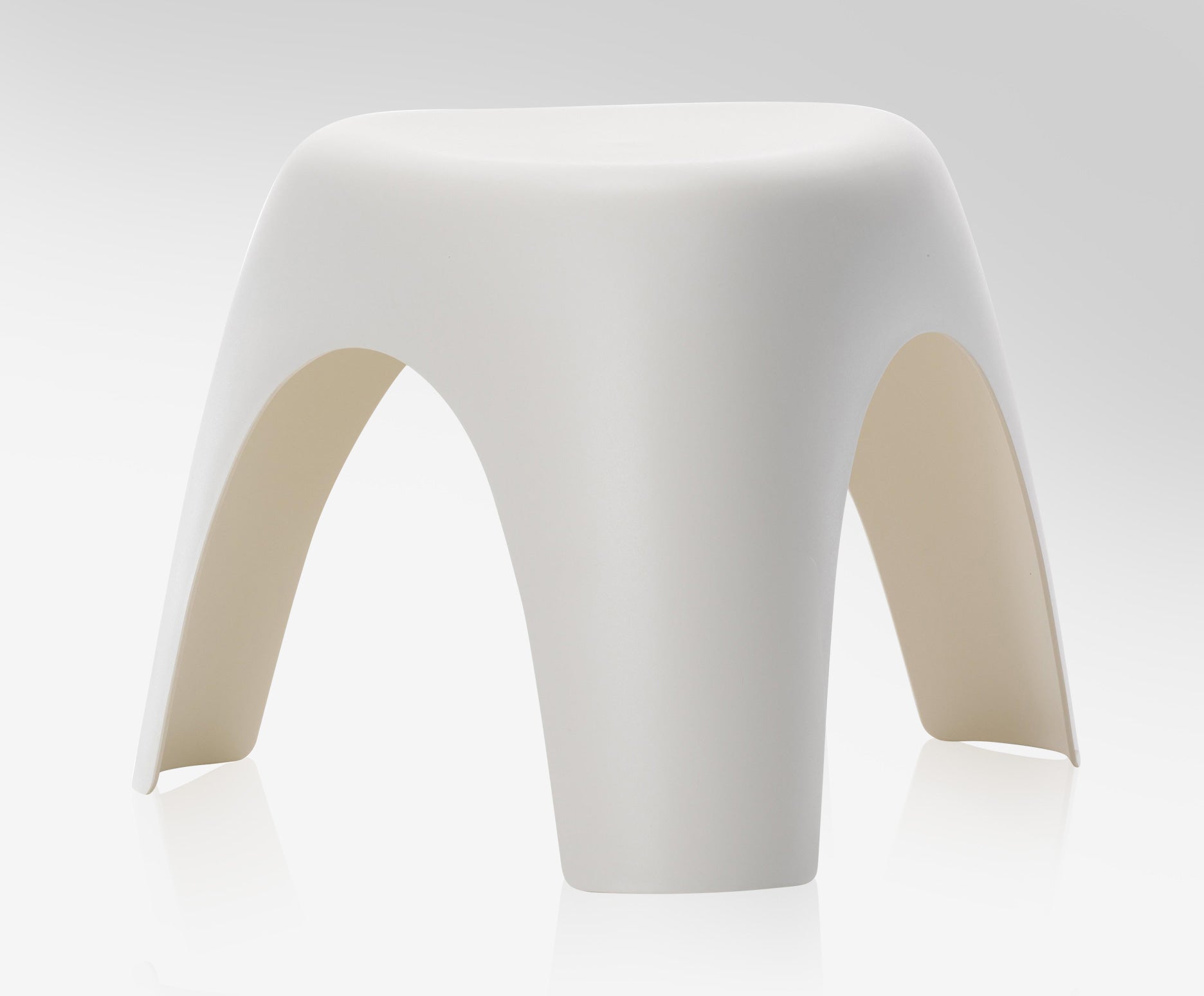 About the Design
The postwar era in Japan is now considered the origin of the country's design and manufacturing revolution, and the Elephant stool, designed in 1954 by Sori Yanagi (1915–2011), is one of the most recognizable objects to emerge from it.
The Elephant stool — named for its similarity to the lovable mammal's chunky feet — is a stackable three-legged plastic stool. Originally produced in fiberglass by Japan's Kotobuki Seating, the Swiss furniture company Vitra now makes the stool in injection-molded plastic, the result of an easy and inexpensive manufacturing process for which Yanagi developed a range of colorways. The piece can be adapted for both indoor and outdoor use and is a favorite for children and nurseries thanks to its charming shape and easy-to-clean material.
Yanagi is well-known for his organic forms, which stem from a postwar nationwide effort on behalf of designers to balance traditional Asian sensibilities with Western modernism and industrial techniques. The Elephant stool's gently sloping legs and soft dimpled seat evoke the curves favored by other Western furniture makers like Alvar Aalto and Arne Jacobsen, but the simplicity and biomorphic shape have a distinctly Asian — and a distinctly Yanagi — nature.
Yanagi's now-signature style owes to a wide range of influences. He was born in Tokyo in 1915, and his father, Soetsu Yanagi, founded both the Mingei movement — a Japanese folk art movement that celebrated the beauty of ordinary handcrafted objects — and the Japan Folk Crafts Museum. Sori became director of the museum in 1977. His father's passion for finding and creating beauty in functional, everyday objects can be seen in Yanagi's practical but evocative designs for his tea kettles, manhole covers and more. Yanagi studied art and architecture at the Tokyo Art School and cited the work of modernist architect Charles-Édouard "Le Corbusier" Jeanneret as having played a role in his becoming a designer. Yanagi later worked with forward-thinking French designer Charlotte Perriand when she lived in Japan. 
In his long career, Yanagi designed hundreds of quotidian objects: His stainless-steel tea kettles are amongst Japan's all-time best-selling designs, and his dedication to finding elegance in organic forms as seen in the graceful Elephant stool is the reason it remains a timeless artifact and symbol from an important period in design history.
Sori Yanagi Elephant Stool
Elephant Stool with White Color by Sori Yanagi for Kotobuki
By Kotobuki, Sori Yanagi
Located in Tokyo, JP
Stacking stools also called elephant leg stools. It won the gold medal at the 12th Milan. Triennale of 1960, and it is stored as MoMA and the museum of the Amsterdam as a permanent c...
Category
Vintage 1960s Japanese Mid-Century Modern Stools
Sori Yanagi Rare Early Red Elephant Stool for Kotobuki, Japan
By Kotobuki, Sori Yanagi
Located in Maastricht, NL
A rare and early red version fiberglass elephant stool, designed by Sori Yanagi for Kotobuki. It bears its name 'elephant stool' because of the shape resemblances a baby elephant....
Category
Vintage 1950s Japanese Mid-Century Modern Stools