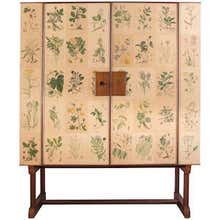 Today, the name Svenskt Tenn is associated around the world with the vibrant, modernist textiles and furniture of Josef Frank, who was the Swedish company's chief designer in the mid-20th century. But the term "svenskt tenn" actually means "Swedish pewter," and the very first goods the company sold were stylish pewter objects, such as a elegant 1927 candelabra found in the collection of the Saint Louis Museum of Art, or a sleek, understated mirror in the collection of the Swedish National Museum. These pieces were designed to appeal to discerning but price-conscious shoppers in 1920s Stockholm. Art teacher and interior designer Estrid Ericson (1894–1981) partnered with pewter artisan Nils Fougstedt (1881–1954) to establish Svenskt Tenn in 1924, and their creations quickly gained a reputation for high quality and affordability, winning a gold medal at the World Exhibition in Paris in 1925.
The experience of renovating her own apartment in the 1920s exposed Ericson to Swedish functionalism — or funkis, as it was known in Sweden — a branch of modernism that advocated uncomplicated forms, subdued colors and utility. She was inspired to open an interior design department at Svenskt Tenn, and in 1930 the firm introduced its first line of furniture. Selections included items produced by the companies Gemla and Bodafors, as well as original designs by Ericson and the architects Uno Åhrén and Björn Trägårdh, who had worked together on the redesign and expansion of the showroom. The trio's furniture was displayed at Stockholm's Galleri Modern in 1931, where it met with praise from critic Gotthard Johansson, a leading proponent of Swedish Functionalism. Johansson admire the "pure lines" and "modern austerity" of the furniture, establishing Svenskt Tenn as an important voice in Swedish design.
But the signature partnership that would come to define the look of Svenskt Tenn was in part the result of political turmoil and the emergence of Nazism in Europe. When Josef Frank fled Vienna for Stockholm in 1933, he was already an accomplished architect who questioned modernist orthodoxy in design. He disliked tubular steel furniture and believed that monochromatic surfaces were distressing to viewers, while pattern and ornament gave interiors a sense of warmth and calm. Ericson was an admirer of Frank's work, and offered him the chance to design products for Svenskt Tenn. Their professional partnership, particularly in textile design, would eventually become one of the hallmarks of Swedish modernism.
Frank and Ericson collaborated from 1934 until Frank's death in 1967, with Frank creating unmistakable, bold designs and Ericson employing her flair for interiors, merchandising and display. The pair called their shared approach "Accidentism" or "The Happy Chances Philosophy," mixing and matching the new and antique, the serious with the playful and pattern with solid colors to find eclectic new combinations in their showroom.
Frank's textiles are like a visual catalogue of exotic plants and flowers, geological formations and maps, inspired in part by Ericson's world travels and by Frank's love of folk art. Svenskt Tenn continues to sell fabric, wallpaper and household goods, many of which sport variations Frank's signature botanical motifs. Antique Svenskt Tenn pewter, lighting, furniture, textiles and decorative objects are generally priced anywhere from $2,500-$25,000 depending on scale and condition. The tenets of Scandinavian modernism are as fresh and relevant now as they were in the 1950s. Light-filled and airy rooms with white walls are perfect settings for comfortable furniture upholstered in one of Josef Frank's indelible patterns. Nearly a century since its founding, the signature aesthetic of Svenskt Tenn remains as distinctive and timeless as ever.
Svenskt Tenn furniture for sale on 1stDibs
Svenskt Tenn furniture is available for sale on 1stDibs. These distinctive objects are frequently made of
metal
and designed with extraordinary care. In our collection of Svenskt Tenn furniture there are many options to choose from, although
brown
editions of this piece are particularly popular. In-stock of these items we have 144 vintage editions, while there is also 0 modern edition to choose from. Many original furniture by Svenskt Tenn were created in
Europe
during the
20th century
in the
Scandinavian Modern
style. If you are looking for additional options, many customers also consider furniture by
Hans Bergström
,
ASEA
and Uno & sten Kristiansson. Prices for Svenskt Tenn furniture can vary depending on size, time period and other attributes. 1stDibs's price starts at
$380
and tops out at
$64,699
, while pieces like these can sell for
$3,750
on average.
Creators Similar to Svenskt Tenn