Giulia Colussi Jewelry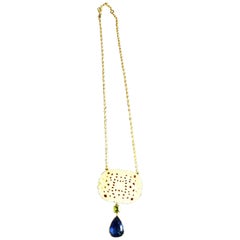 Dealer Location:
Milan, IT
Stone:
Peridot, Tanzanite
Cathedral Necklace Gold Mother-of-Pearl Tanzanite ...
Giulia Colussi
2010s Baroque Pendant Necklaces
18k Gold, Peridot, Tanzanite
18k gold pendant necklace with a carved mother of pearl, princess cut peridot and tanzanite cabochon drop. The mother of pearls is line in gold on the back with a special mirror sheet ...
The Emporium, Ltd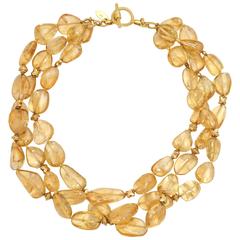 Dealer Location:
New York, NY
Metal:
22k Gold, Yellow Gold
Pat Saling Triple Strand Citrine Gold Bead Necklac...
Pat Saling
Vintage 1980s Baroque Beaded Necklaces
22k Gold, Yellow Gold, Citrine
Beads Designed & signed by Pat Saling set of 3 polished Citrine Beads interspersed by 20t gold decorative Elements. Circle & Bar closing. Can be refigured to 2 long Strands