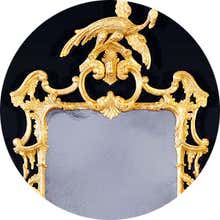 Rococo Furniture (France, Italy AND Germany, 18th century)
Rococo was an aesthetic movement in the fine and decorative arts that found its inspiration in nature and fostered an overall lightness and delicacy of form, construction and ornament in interior design.
Though greatly influenced by trends in Italy and Germany, Rococo is often called Louis XV-style — the movement having reached its best expression during that sybaritic French king's reign. The term "rococo" is thought to be a portmanteau of the French words rocaille and coquilles — "rock" and "shells" — organic motifs frequently used in architecture and design of the style.
Rococo furniture is above all sensuous and social. The furniture of earlier eras in Europe had been heavy in every sense; the Rococo period saw the appearance of light-framed upholstered armchairs, side chairs, and occasional tables that could easily be moved to form conversational circles.
The signal detail of Rococo furniture design is the gently curved cabriole, or S-shaped chair-, table-, and cabinet-leg. It imitates the bend of a tree limb or a flower stem. In a further reference to nature, furnishings were often asymmetrical and painted white, or in soft, pastel shades. Rococo has become a timeless style, and as the furniture pieces presented on 1stDibs demonstrate, its playful, sculptural forms can provide visual excitement to contemporary, clean-lined spaces.