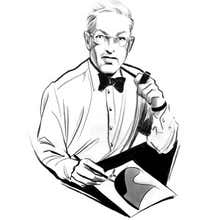 Danish, 1902-1971
The eye-catching work of the Danish architect and designer Arne Jacobsen often introduces new collectors to mid-20th century furniture. With their fluid lines and sculptural presence, Jacobsen's signature pieces — the elegant Swan chair and the cozy-yet-cutting edge Egg chair, both first presented in 1958 — are iconic representations of both the striking aesthetic of the designers of the era and their concomitant attention to practicality and comfort. Jacobsen designed furniture that had both gravitas and groove.
Though Jacobsen is a paragon of Danish modernism, his approach to design was the least "Danish" of those who are counted as his peers. The designs of Hans Wegner,  Finn Juhl, Børge Mogensen and others grew out of their studies as cabinetmakers. They prized skilled craftsmanship and their primary material was carved, turned and joined wood. Jacobsen was first and foremost an architect, and while he shared his colleagues' devotion to quality of construction, he was far more open to other materials such as metal and fiberglass.
Many of Jacobsen's best-known pieces had their origin in architectural commissions. His molded-plywood, three-legged Ant chair (1952) was first designed for the cafeteria of a pharmaceutical company headquarters. The tall-backed Oxford chair was made for the use of dons at St. Catherine's College, Oxford, whose Jacobsen-designed campus opened in 1962 (while still under construction). The Swan, Egg and Drop chairs and the AJ desk lamp were all created as part of Jacobsen's plan for the SAS Royal Copenhagen Hotel, which opened in 1960. (The hotel has since been redecorated, but one guest room has been preserved with all-Jacobsen accoutrements.)
To Jacobsen's mind, the chief merit of any design was practicality. He designed the first stainless-steel cutlery set made by the Danish silver company Georg Jensen; Jacobsen's best-selling chair — the plywood Series 7 — was created to provide lightweight, stackable seating for modern eat-in kitchens. But as you will see from the objects on 1stDibs, style never took a backseat to function in Arne Jacobsen's work. His work merits a place in any modern design collection.
Find authentic Arne Jacobsen chairs, tables, sofas and other furniture on 1stDibs.
Previously Available Items
Arne Jacobsen sofas for sale on 1stDibs
Arne Jacobsen sofas are available for sale on 1stDibs. These distinctive items are frequently made of
Leather
and are designed with extraordinary care. There are many options in our collection of Arne Jacobsen sofas to choose from, although
black
editions of this piece are particularly popular. In stock are 11 vintage editions of these items, while there is 0 modern edition to choose from as well. In
Scandinavian modern
style, many of the original sofas by Arne Jacobsen were created during the
20th century
. If you're looking for additional options, many customers also consider sofas by
Kaare Klint
,
Peter Hvidt
and
Ib Kofod-Larsen
. Arne Jacobsen sofas can vary in price, size, time period and other attributes. 1stDibs's price starts at US
$4,579
and tops out at US
$109,843
, while pieces like these can sell for US
$10,084
.
Creators Similar to Arne Jacobsen
Questions About Arne Jacobsen Sofas
1stDibs Expert

April 5, 2022

Arne Jacobsen clocks are now made in Denmark. They have been manufactured in a range of other countries in the past, but now have returned to production in Denmark, where the architect and furniture designer was born. Browse through a collection of Arne Jacobsen clocks from top sellers on 1stDibs.

1stDibs Expert

April 5, 2022

Arne Jacobsen was a renowned furniture designer and architect who is most frequently associated with his iconic Egg Chair, although his Swan and Ant Chairs were also quite popular. His avant-garde pieces were eye-catching and a little bit shocking, but also very functional. Shop a collection of Jacobsen furniture designs from some of the world's top sellers on 1stDibs.