The average cost of an antique Gucci Backpacks is $1,279. The price can vary from $802 and $1,875 based on the condition, age, materials and aesthetic value for a specific Gucci Backpacks.
Dealer Location:
San Francisco, CA
Vintage GUCCI Black Suede & Leather Bamboo Handle ...
Gucci Backpacks
Vintage GUCCI backpack in black suede featuring double patch pockets with leather flap and bamboo closure, drawstring top, flap with buckle closure, and bamboo handle. Minor aging throu...
Dealer Location:
Miami, FL
Gucci Super Cute And Super Rare Black Satin Mini B...
Gucci Backpacks
Extremely cute and rare mini baby Gucci backpack. Backpack itself is made of hard case and looks like a mini box . Black satin fabric outside.Inside lined in red fabric . Mini red sa...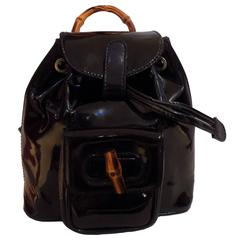 W 6.3 in.
Sale Price
47% Off
Dealer Location:
Capri, IT
Gucci Bamboo Black Varnish Leather Small Backpack
Gucci Backpacks
Gucci Bamboo Black Varnish Leather Small Backpack Rare and unique piece: Small bamboo backpack