Achille Salvagni Atelier in Mayfair presents the exclusive furniture and lighting collections of Italian architect and interior designer Achille Salvagni. Hand-produced in Rome by the finest artisans and using only the most exceptional materials, each piece from the Atelier is the result of scrupulous craftsmanship, historical reflection and impeccable attention to detail down to the patina choice on a door handle or a custom hinge on a cabinet. With a couturier's approach to design, Salvagni places a unique spin on elegance by infusing the decorative grandeur of the Roman Empire into wholly distinctive, innovative contemporary forms. Achille Salvagni was born in Rome in 1970.
In 2002 he founded Achille Salvagni Architetti and has gained worldwide recognition for his award winning luxury residences and superyachts. In 2013, alongside his architecture practice, he founded Achille Salvagni Atelier, a studio devoted to the production of his limited edition furniture and lighting. Following the success of the Atelier in both Italy and the USA, Salvagni opened Achille Salvagni Atelier at 12 Grafton Street in Mayfair to showcase his latest creations.
Read More +
Read Less -
Featured Articles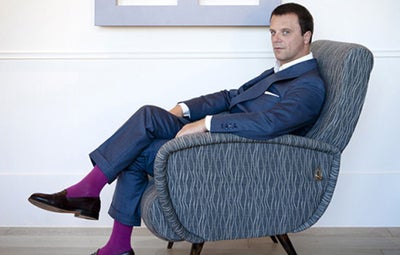 Channeling the spirit — but never copying the style — of the great creators of the Art Deco era, Roman architect and designer Achille Salvagni has carved out a completely contemporary aesthetic.
Read More