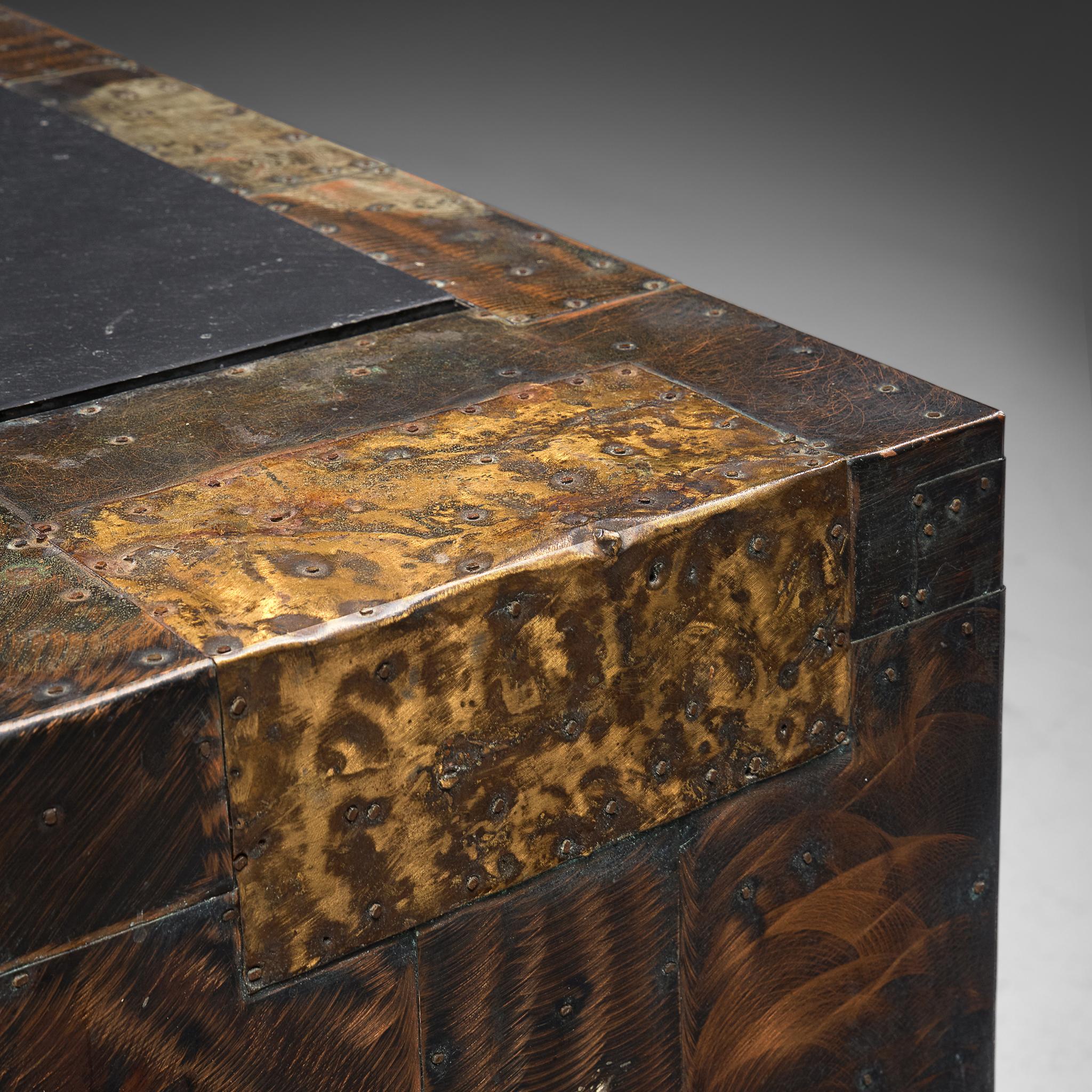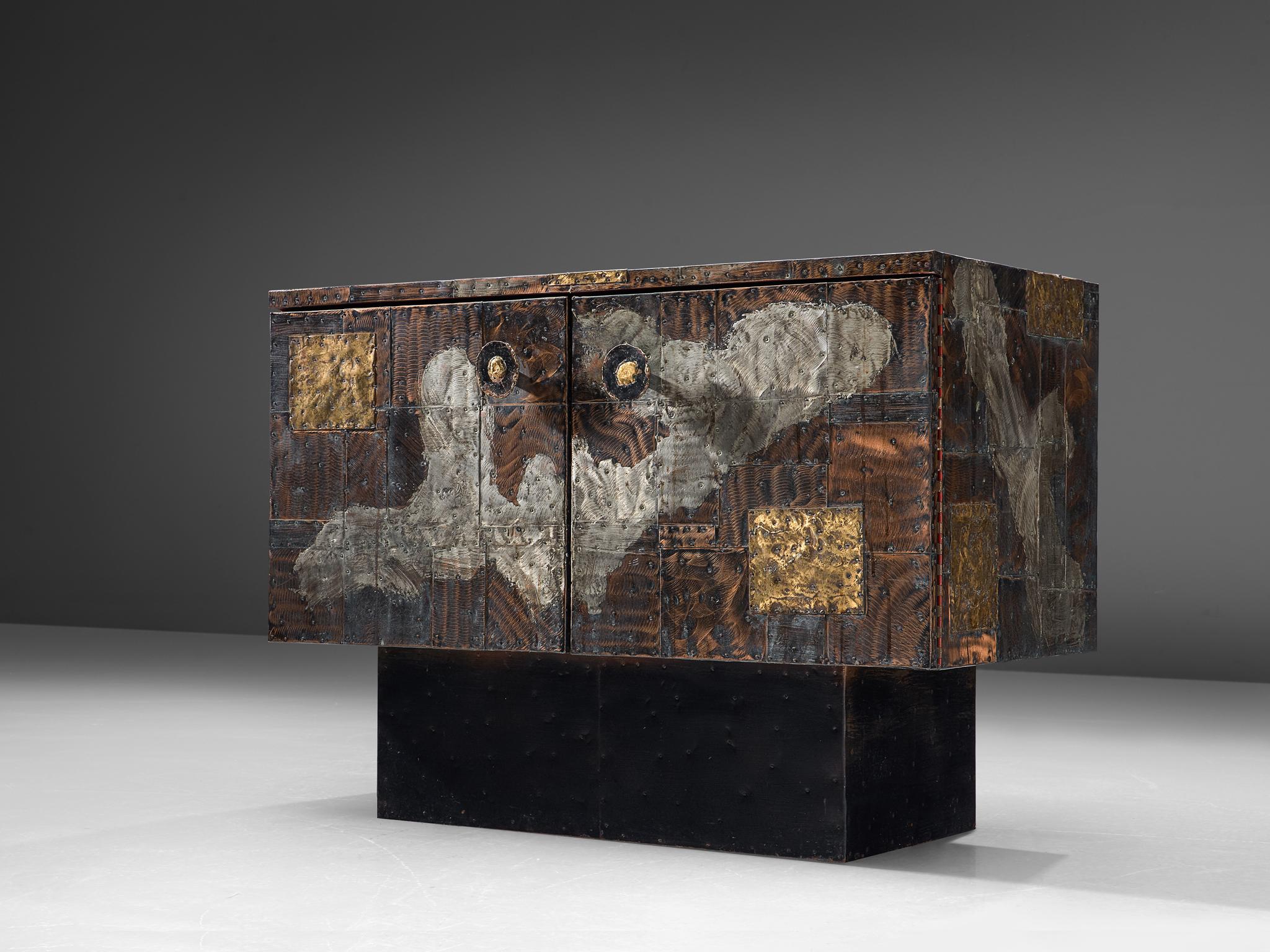 As the name implies, the Patchwork series — designed by American furniture maker and artist Paul Evans (1931–87) — is characterized by a unique tartan of different torch-cut patinated sheet metals such as brass, pewter and copper that the sculptor fastened to the facade of handcrafted furniture. The boxy, expressive Patchwork pieces, which include a Patchwork cabinet, Patchwork side table and Patchwork mirror, appropriately embody an audacious blend of various design styles and movements. And while the collection is one of the New Jersey–born, Pennsylvania–raised furniture maker's most beloved modernist works, Evans's unusual, now widely celebrated art-furniture also owes to brutalism as well as the American Studio Craft Furniture movement.
Mixing styles and materials came naturally to Evans. He studied woodworking in Pennsylvania and enrolled in Rochester Institute of Technology's School for American Craftsmen in the 1950s. During a short stint at Michigan's famed Cranbrook Academy of Art, Evans explored metalworking and other disciplines. Eventually, he made his way back to New Hope, Pennsylvania, where he shared a showroom with furniture maker Phillip Lloyd Powell and collaborated with North Carolina manufacturer Directional Furniture — a relationship that yielded the Patchwork line and more.
Between 1964 and the 1970s, Evans produced hundreds of Patchwork pieces for Directional, although the sculptor had been making similarly collagist cabinets since at least 1959. The demand for his lines required Evans to open a second shop in 1965, and by the mid-1970s, he had more than 80 artisans in his employ. "We couldn't make them fast enough," said a foreman who worked for Evans. Although they're no longer in production, the distinctive Patchwork furnishings are still highly sought after among collectors, famous musicians and more.
Shop Designs in the Collection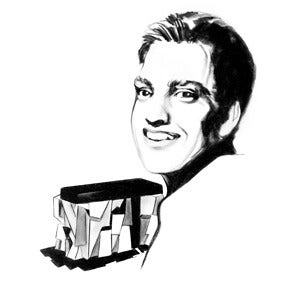 A designer and sculptor, Paul Evans was a wild card of late 20th century modernism. A leading light of the American Studio Furniture movement, Evans's sideboards, credenzas, coffee tables and other work manifests a singular aesthetic sense, as well as a seemingly contradictory appreciation for both folk art forms and for new materials and technologies.
Evans's primary material was metal, not wood, which was favored by his fellow studio designers, and Bucks County, Pennsylvania, neighbors George Nakashima and Phillip Lloyd Powell. He trained in metallurgy and studied at the Cranbrook Academy of Art, the famed crucible of modern design and art in suburban Detroit. For a time early in his career, Evans also worked at Sturbridge Village, a historical "living museum" in Massachusetts, where he gave demonstrations as a costumed silversmith.
Evans's earliest work unites these influences. The pieces that made his reputation are known as "sculpted-front" cabinets: wood cases faced with box-like high-relief patinated steel mounts laid out in a grid pattern. Each mount contains a metal emblem, or glyph, and the effect is that of a brawny quilt.
Evans's later work falls into three distinct style groups. His sculpted-bronze pieces, begun in the mid-1960s, show Evans at his most expressive. He employed a technique in which resin is hand-shaped, and later sprayed with a metal coating, allowing for artistic nuance in the making of chairs, tables and case pieces. Later in the decade and into the 1970s, Evans produced his Argente series for celebrated manufacturer Directional (​​a brand known to vintage mid-century modern furniture collectors everywhere): consoles and other furniture forms that feature aluminum and pigment-infused metal surfaces welded into abstract organic forms and patterns.
Last, Evans's Cityscape design series — a milestone in the history of brutalist design — meshed perfectly with the sleek, "high tech" sensibility of the later '70s. Evans constructed boxy forms and faced them with irregular mosaic patterns that mixed rectangular plaques of chromed steel, bronze or burlwood veneer. These, like all of Paul Evans's designs, are both useful and eye-catching. But their appeal has another, more visceral quality: these pieces have clearly been touched by an artist's hand.
Find a collection of authentic Paul Evans furniture today on 1stDibs.