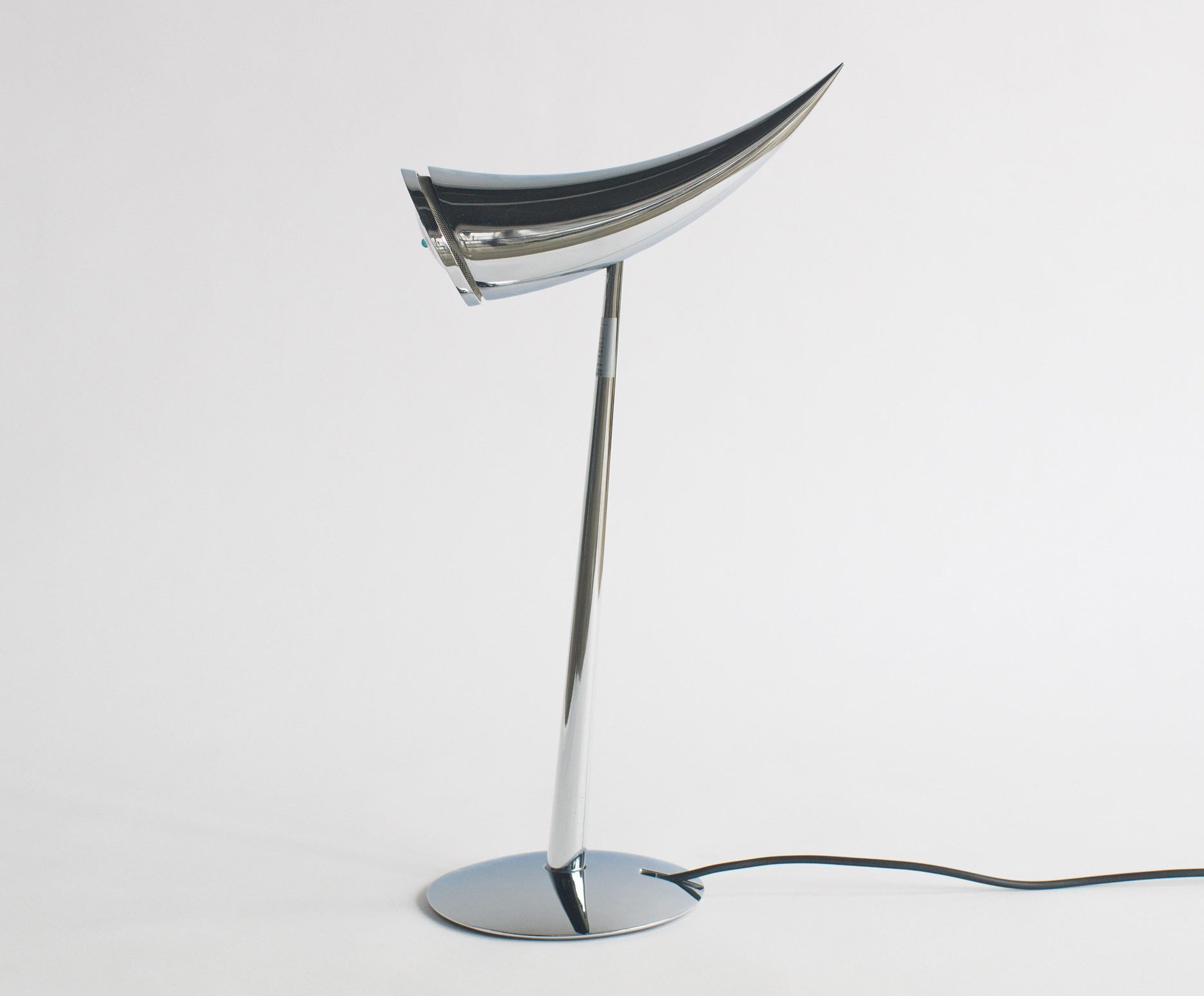 Iconic Designs
Ara Table Lamp
About the Design
Designer Philippe Starck (b. 1949) once said: "Nothing exists without light. Light is everything." It should come as no surprise, then, that the prolific French creative has tried his hand at numerous lighting designs, all of which seek to push the boundaries of form in some way. The Ara table lamp, named for Starck's eldest daughter, is one of several lighting designs he created for Italian manufacturer FLOS, the name behind some of the most inventive lights in history.
The fixture was released in 1988, six years after a commission to redesign the private rooms at Paris's Élysée Palace for then-president François Mitterand catapulted Starck to global design stardom. The Ara table lamp consists of a simple chrome-plated metal base and tilted stem, atop which sits a "shade" in the shape of a horn that can be rotated in order to direct the light. It contains a single halogen bulb. The exaggerated and unexpected nature of the shape is typical of Starck's thought-provoking approach to design; he frequently manipulates objects just enough, requiring the viewer to contemplate and question them.
The son of an aircraft engineer, Starck is also prone to toying with functionality and mechanics; on the Ara, the light is activated not by an external switch or pull but simply by pointing the horn shape up or down. The Ara table lamp, which is in the permanent collections of the Museum of Modern Art and the Victoria & Albert Museum, has since been discontinued by FLOS. It is only available through resale.
Previously Available Items
Ara Table Lamp by Philippe Starch for Flos
Located in West Palm Beach, FL
This stylish, polished steel table lamp is known as the Ara, and it was created in 1988 by Philippe Starck for Flos. The lead image shows the lamp in its off position (with the tip of the cornucopia downward) and you need to grab the horn and push in downward to turn the lamp on and then push it upward when you want to turn the lamp off. Note: The
Ara table
...
Category
Late 20th Century French Post-Modern Table Lamps
H 22 in. W 6.75 in. D 9.50 in.
Ara Table Lamp Philippe Starck for Flos in Stock
Located in Shibuya-ku, Tokyo
Ara desk lamp designed by Philippe Starck for Flos. Usable with 100-120V, in the US.
Category
Vintage 1980s Italian Post-Modern Table Lamps
H 19.69 in. W 11.03 in. D 7.09 in.
More Philippe Starck Designs