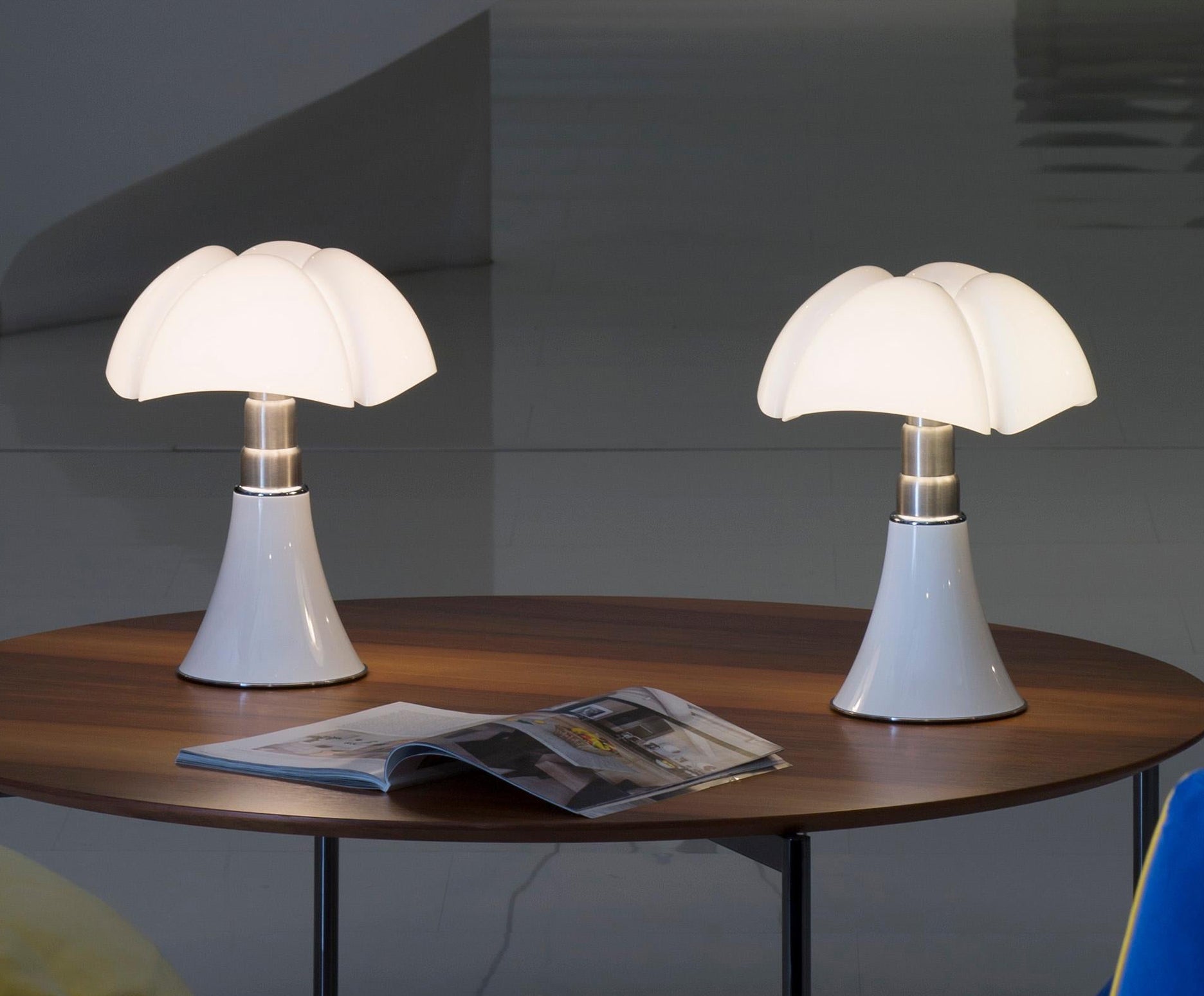 About the Design
Like the animal for which it is named, Gae Aulenti's 1965 Pipistrello, which means "bat" in Italian, is a lamp that's both graceful and skeletal. With its translucent shade and telescopic stem, the Pipistrello merges art and engineering. Designing her iconic lamp wasn't Aulenti's only project at the time; she was also teaching at the School of Architecture at the Polytechnic University of Milan and running her architecture practice, which she founded in 1954.
In addition to architecture, Aulenti (1927–2012) was also interested in interior design, especially so when she joined the staff of design magazine Casabella in 1955. She would later go on to join the American Society of Interior Designers. The Pipistrello is a testament to both Aulenti's architectural training as well as her foray into interior decoration. Its telescopically adjustable steel stem, set atop a lacquered aluminum base, renders it a practical and versatile table lamp. The acrylic shade, meanwhile, is sculptural and dynamic, with its overlapping arches suggesting mid-flight movement. Aulenti's choice of material — white opal methacrylate, a translucent acrylic — makes for an enchanting glow when the light is on and hides the lamp's inner workings when it's off.
Despite her lasting legacy, Aulenti championed an understated approach to interiors and architecture, espousing the belief that a room's human occupants should be the focus rather than any design piece. In an interview with Vogue, she said that her "advice to whoever asks me how to make a home is to not have anything, just a few shelves for books, some pillows to sit on."
Aulenti's second bit of advice, though, is an embodiment of her legacy and commitment to lasting design: "To take a stand against the ephemeral, against passing trends . . . and to return to lasting values." Light, function and durability — what could be more lasting than those?
The Pipistrello was manufactured by Milanese design house Martinelli Luce, which would become famous for the Cobra desk lamp a few years later, and it remains in production today.
Gae Aulenti Pipistrello Lamp
Previously Available Items