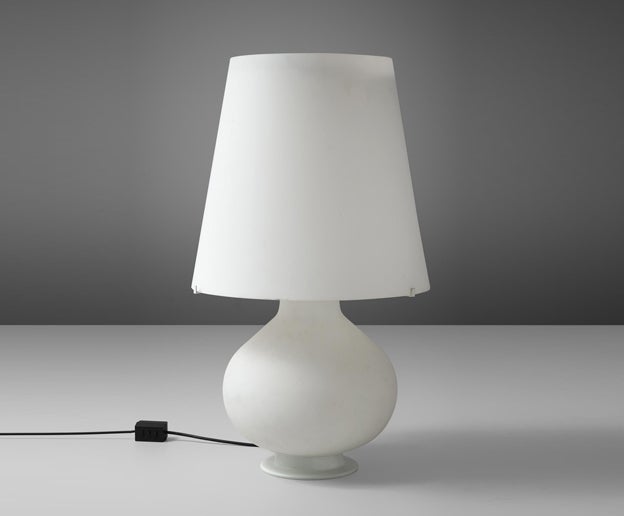 About the Design
In his first year as artistic director at the Milanese design house Fontana Arte (founded by Giò Ponti and Luigi Fontana) in 1954, French glass artist Max Ingrand (1908–69), who had made a mark in his native country creating detailed stained-glass windows for cathedrals including Notre-Dame de Paris, devised a stunningly minimal table lamp. The Fontana light would go on to be one of both Ingrand and Fontana Arte's most recognizable creations — and indeed one of the most influential lamps in design history.
The Fontana lamp's delightfully simple silhouette belies its technical complexities. Both the shade and body of the fixture are crafted in frosted, handblown glass, a process that required achieving an identical finish for two entirely different shapes. These parts are set atop a base of metal that is powder-coated to match the glass. Ingrand's original lamp design was white; Fontana Arte soon reissued a version in black and now offers light gray and purple, as well as a brass variation on Ingrand's form that's available in several sizes.
While a monochrome table lamp bears seemingly little in common with a kaleidoscopic, figurative stained-glass panel, to Ingrand, the creative concept behind the two wasn't so different. If he harnessed light in a certain way, Ingrand believed, a designer could define shape and give a sense of movement with no color at all. "Light was no longer just a means to breathe life into color but became a means to breathe life into an entire architecture," the artist once said. Indeed, the original Fontana, with its charismatic shape and romantic glow, seems to come alive when powered up, Ingrand's careful calibrations of light and form giving it an impressive depth without the need for any additional decorative details.
In-the-know aesthetes may refer to the lamp as "the 1853," a reference to the piece's original name and one that often appears on listings for early models. The name was later changed in order to pay tribute to its manufacturer, a certain indication of the lamp's importance to Fontana Arte's legacy.
Max Ingrand Fontana Table Lamp
Previously Available Items