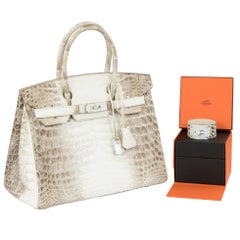 Hermes Birkin 30cm Himalayan Crocodile with Diamond Encrusted Hardware
Hermes Birkin 30cm Himalayan Crocodile with Diamond Encrusted Hardware
About
This is a most rare offering of the highly collectible Himalayan collection produced by Hermes. Absolutely breathtaking and spectacular, the Diamond Himalayan Birkin is teaming up with the matching Kelly GM Himalayan Diamond Bracelet, a most coveted combination of highly collected pieces. The magnificent 30cm Himalayan Crocodile Birkin features 18K white gold and diamond encrusted hardware, totaling 8.2 carats. The matching Kelly GM bracelet also features white gold hardware and is adorned with 6.75 total carats of diamonds. The two together are an absolute power statement that cannot be replicated and will likely never be sold again. The rare and coveted Hermès Himalayan Birkin is the most sought after handbag in the world. In white matte niloticus crocodile, the skin goes through an incredibly labor intensive process, so the ombre resembles that of the Himalayan Mountains. The coloration and scales on this Himalayan duo are the best that experts have ever seen. Both items are brand new in their original special diamond Himalayan boxes. This birkin is new with plastic on the hardware and comes with the deluxe Hermès box designed for the diamond Himalayan, dustbag and rain cover. This rare Himalayan features front toggle closure and clochette with lock and keys, all made of white gold and diamonds. Additionally, the Kelly GM bracelet is composed of the same niloticus crocodile with matching white gold hardware adorned with diamonds. These are two of the most awe-inspiring pieces that Hermès has ever created. It is the crown jewel of birkins, paired with the most rare and exquisite diamond niloticus crocodile Himalayan bracelet. Do not wait, this opportunity will never come again.
Details
Designer:

Brand:

Design:

Place of Origin:

Period:

Condition:

Seller Location:

Reference Number:

Seller: Item #206-CITES

1stDibs: LU91314931183
About the Design
Birkin Bag
Since its 1984 debut, the Hermès Birkin bag has become a coveted status symbol as much as it has an exclusive collector's piece. The handbag is among the most expensive in the world, and the appetite for the accessory is well-known inside and outside the fashion industry.
The history of the Birkin bag owes to a chance meeting on a flight from Paris to London in 1981, when British actress, singer and model Jane Birkin found herself describing her ideal handbag to another passenger. The two travelers hadn't properly met, so it wasn't immediately clear that she was practically brainstorming a future product with Hermès chairman Jean-Louis Dumas. When the latter identified himself, he told the star that Hermès was prepared to produce the accessory of her dreams. A discussion followed that involved rough sketches on an Air France airsickness bag, and the Birkin was introduced three years later.
A spacious and symmetrical rectangular bag that features dual handles as compared to the trapezoidal single-handle frame of the company's popular Kelly, the Birkin has amassed a rabidly enthusiastic fan base since its inception. Because it is so pricey and sought after, the goatskin-lined Birkin has frequently been targeted by counterfeiters, and its modest aesthetic and understated branding prevent it from being easily discernible from fakes. An array of metallic hardware fixtures, most often produced in gold or palladium, helps distinguish this dynamic handcrafted tote, and likely assisted the French police officers who broke up an international counterfeit Birkin operation in 2012.
Among the characteristics that are integral to determining a Birkin's authenticity as well as rendering it a truly desirable collector's item are the signature lock and accompanying keys. The latter are tucked inside a lanyard made from a single piece of leather and draped around one of the handles. There are scuff-resistant base studs, too — a defense system to shield the durable leather exterior from damage should its owner park it on a gritty sidewalk. The studs are hammered in and can't twist off, so there isn't any danger of the bag losing its feet.
Each tote is hand-sewn according to Hermès's centuries-old saddle-stitching technique, and the exotic leathers — a variety that includes ostrich and crocodile — are subsequently painted and polished by house craftsmen in France. Owing to the artisan construction effort behind this globally adored accessory, it may take up to several days to produce a single Birkin bag.
Jane had to wait for hers, too.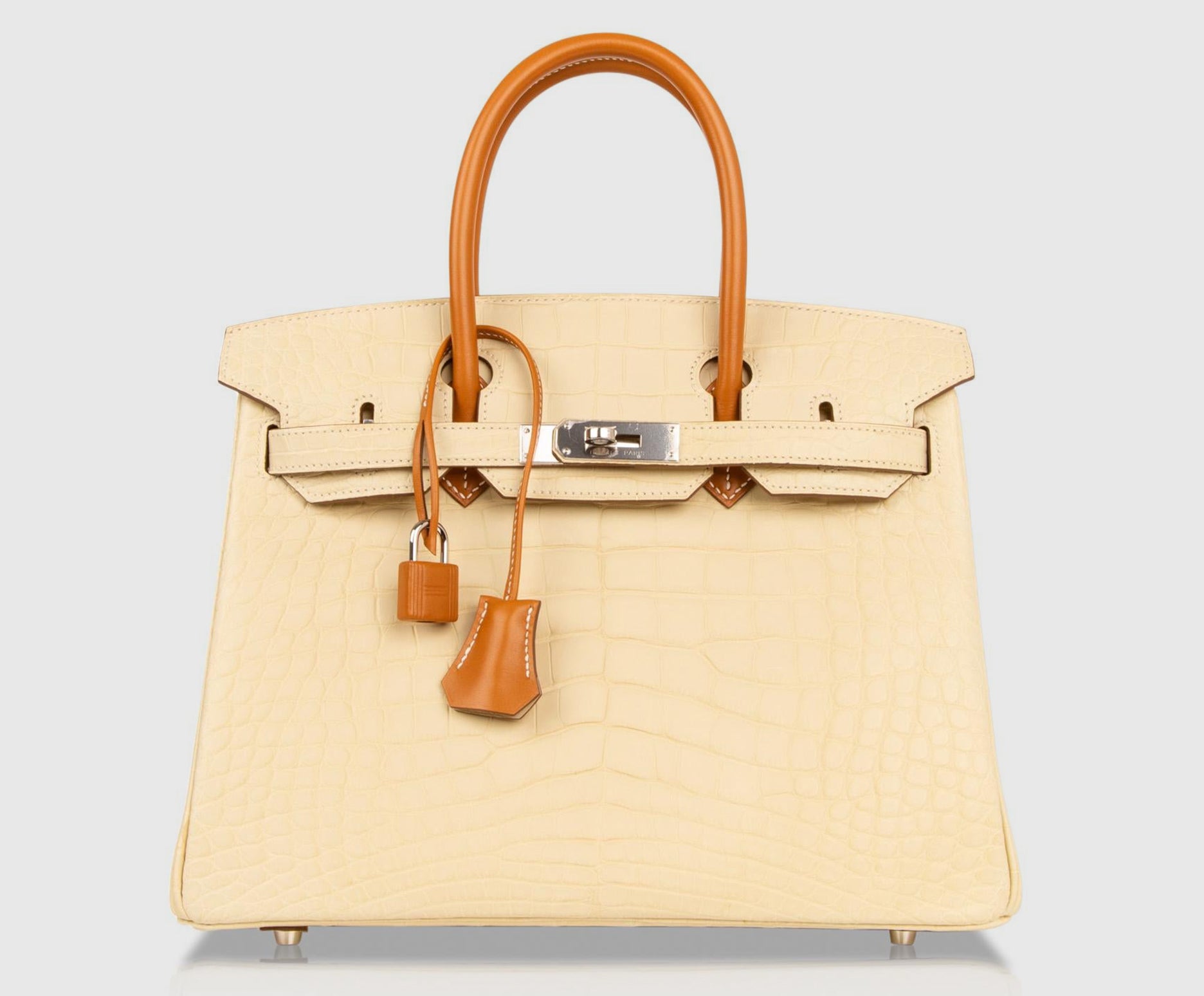 Shop The Birkin Bag
Shop All Hermès
About the Manufacturer
Hermès
For Hermès, what began as a maker of leather equestrian goods for European noblemen would eventually grow into one of the most storied fashion labels in the world. In 1837, German-born French entrepreneur Thierry Hermès opened a saddle and harness purveyor in Paris. Gradually, the house extended into accessories and luggage for its riders, and today, in paying homage to its origins, the family-run luxury brand resurfaces horse motifs in everything from clothing and modernist jewelry to pillows and handbags.
The first top-handled bag ever produced by Hermès was the Haut à courroies, which made its debut in 1892. A tall bag secured with a folded leather flap (fastened with bridle-inspired straps), it was designed to transport riding boots and a harness. As the world made the switch from horse to automobile, the bag adapted, becoming a multifunctional travel satchel instead of a designated saddlebag. Today, 120 years later, the HAC remains in Hermès's line — and its distinctive flap and clasping straps have laid the groundwork for some of the house's other iconic bags.
In the 1930s, Robert Dumas (son-in-law to Émile-Maurice Hermès, Thierry's grandson) designed a smaller, trapezoidal take on the flap bag with a handle and two side straps. Later, actress Grace Kelly, then engaged to Prince Rainier of Monaco, is said to have used one of these bags to conceal her pregnancy during the 1950s. Because she was photographed constantly, the coverage catapulted her handbag to international popularity. In 1977, Hermès officially renamed the model for her, and the Kelly bag was born. Each Kelly bag takes between 18 and 25 hours to produce, and its 680 hand stitches owe solely to one Hermès artisan.
Robert Dumas was also responsible for another one of the brand's most iconic offerings: the launch of its first silk scarf on the occasion of Hermès's 100th anniversary in 1937. Based on a woodblock designed by Dumas and printed on Chinese silk, the accessory was an immediate hit.
Today, vintage Hermès scarves, typically adorned in rich colors and elaborate patterns, serve many functions, just as they did back then. Well-heeled women wear it on their heads, around their necks and, in a genius piece of cross-promotion, tied to the straps of their Hermès bags. Kelly even once used one as a sling for her broken arm.
In 1981, Robert Dumas's son Jean-Louis Dumas, then Hermès chairman, found himself sitting next to French actress and musician Jane Birkin on a plane, where she was complaining about finding a suitable carryall for the necessary accoutrements of motherhood. After the two travelers were properly introduced, Birkin helped design Jean-Louis's most famous contribution to the Hermès canon: the Birkin bag, a roomy, square catchall with the HAC's trademark leather flap top and the addition of a lock and key. Owing to the brand's legendary commitment to deft, handcrafted construction, the Birkin is an investment that is coveted by collectors everywhere.
While the Kelly and Birkin may be standouts, gracing the arms of everyone from royal heiresses to hip-hop stars in the past few decades, the handbags are but a small part of Hermès's fashion offerings. Since the 1920s, the brand has produced some of the most desirable leather goods in the world. There's the Constance bag, a favorite of Jacqueline Kennedy, the recently relaunched 1970s-era Evelyne and, on the vintage market, a slew of designs dating back to the 1920s.
Good design never goes out of style. Find a variety of vintage Hermès handbags, day dresses, shoes and more on 1stDibs.