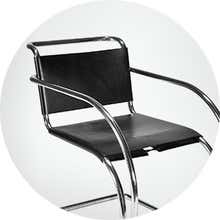 Bauhaus
The Bauhaus was a progressive German art and design school founded by the architect Walter Gropius that operated from 1919 to1933. The name Bauhaus is derived from the German verb bauen, "to build." Under the school's innovative curriculum, students were taught the fine arts, such as painting and sculpture, as well as practical skills like carpentry and metalworking. The goal of the Bauhaus was to erase the distinction between art and craft, while embracing the use of new technologies and materials.
     Despite its brief existence, the Bauhaus has had an enduring influence on art and design, and is regarded by many as the 20th century's chief crucible of modernism. The faculty roster reads like a who's who of modernist creative genius, and included such artists as Paul Klee, Wassily Kandinsky and Laszlo Moholy-Nagy along with architects and designers like Ludwig Mies van der Rohe and Marcel Breuer.
     Bauhaus design style reflects the tenets by which these creators worked: simplicity, clarity and function. They disdained superfluous ornament in favor of precise construction. The furniture of the Bauhaus and its followers married industrial and natural materials in simple, geometric forms. Seating pieces were made with tubular metal or molded plywood frames, and upholstered with leather or cane. Above all, as you can discern on these pages, designs in the Bauhaus style offer aesthetic flexibility. They can be the elements of a wholly spare, minimalist space, the quiet foundation of an environment in which color and pattern come from one's own collection of art and artifacts.
Applied Filters
10 results
Previously Available Items