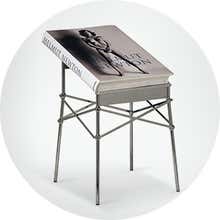 Benedikt Taschen (Germany and USA, b. 1961)
From his humble beginning selling comic books in his native Cologne to his rapidly expanding book publishing empire, Benedikt Taschen has been all about living large — literally. Sumo, a 464-page, 66-pound compendium of Helmut Newton's photography is one of the largest and heaviest books ever produced — it comes with its own display stand — and among the most expensive, too. The first copy in a limited edition published in 1999 and signed by many of the celebrities whose images appear in its pages sold at auction for $364,000.
     TASCHEN's success derives from his personality: he publishes books that reflect his own diverse personal enthusiasms. TASCHEN's lavishly produced art books run the gamut from the ridiculous (The Big Book of Breasts) to the sublime (17th-century naturalist Albertus Seba's Cabinet of Natural Curiosities).
     The TASCHEN catalog includes scholarly examinations of cultural icons such as Muhammad Ali, gorgeous monographs on painters like Hieronymous Bosch, exquisite books of photography like Sebastião Selgado's Genesis and portfolios of muscle cars. In addition to his 11 bookstores located in the United States and Europe, TASCHEN recently opened an art gallery in Los Angeles devoted to photography.
     As you can see from the titles available on these pages, you are more than likely to have an interest in common with Benedikt Taschen — and his marvelous books give you a way to explore it fully.
ELLEN VON UNWERTH- fraulen
Located in Capri, IT
Decadence, kitsch humor, and sexual intrigue meet in Ellen von Umwerth's homage to the world's most beautiful female icons. Whether in cheeky lingerie or nothing but a million-dollar...
Category
21st Century and Contemporary TASCHEN
Previously Available Items