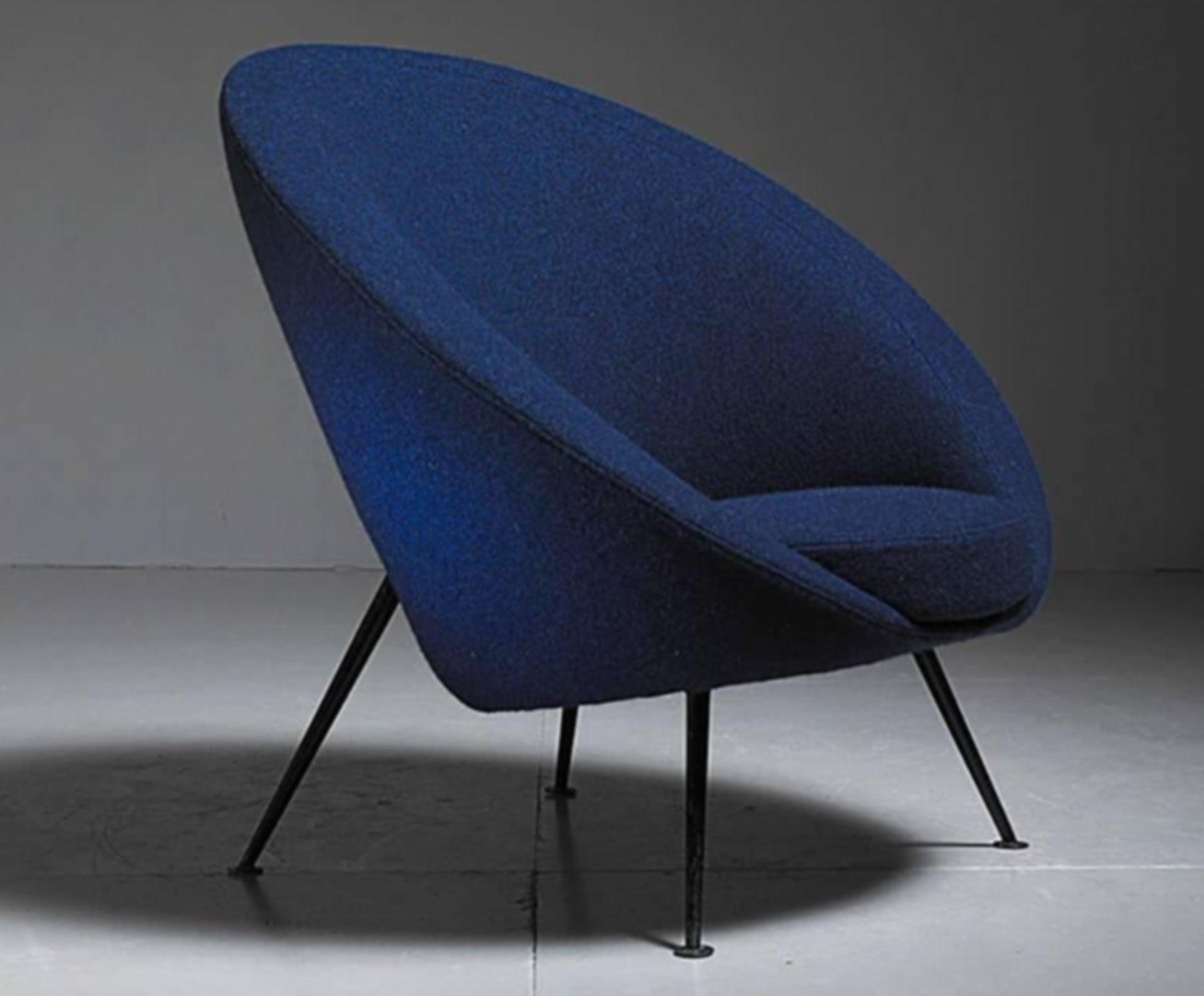 About the Design
Imagine the oblong yet elegant shape of an egg, sliced diagonally from top to bottom, then hollowed out to form a cozy seat — you're picturing the appropriately named Egg chair, officially the Model 813 Uovo, designed in 1951 by Domenico "Ico" Parisi (1916–96) and his wife, Luisa (1914–90).
The son of an art teacher, Ico studied engineering in Como, Italy, as a young man, and in the mid-1930s, he worked in the office of architect Giuseppe Terragni before he moved away from design to explore photography and filmmaking. Eventually, Ico returned to architecture and was a founding member of two architectural groups, the Alta Quota and the Gruppo Como. He studied at the Institute Atheneum in Lausanne, Switzerland, and was inspired by the avant-garde modernist movement in Italy that combined art and design, an ethos that would stay with him for the rest of his life. Ico met his future wife, a fellow modernist architect who studied under Gio Ponti, through his affiliation with Alta Quota. The two married and opened their architecture and industrial design studio La Ruota in Como in 1948. Ico and Luisa soon earned a reputation for being among the most forward-thinking designers in mid-century Italy, thanks to their Atomic Age designs.
The duo is not only known for its furniture but also for its interiors — Ico and Luisa designed more than 150 spaces together — but the Egg chair remains the Parisis' most lauded work. In a letter to Ico sent shortly after the chair's debut, Ponti wrote, "My dear, your egg chair is a marvel. You are a master, and all that is left for me is to retire and live in Civate in oblivion." 
The Parisis crafted the chair, which features a rotund upholstered form supported by four metal legs that resemble those of a satellite, for Italian furniture company Cassina, home of their classic Model 691 and Model 839 Conca chairs — both of which were nominated for the Compasso d'Oro in 1955, while the former won a Gold Medal at the 1957 exhibition "Colori e Forme Nelle Casa d'Oggi" in Como. Ico also exhibited the Egg chair in the pavilion he designed with architects Silvio Longhi and Luigi Antonietti for the 1954 Milan Triennale, where it was very well received. Though the Parisis' names have faded slightly from design memory, their works — in particular the Egg chair — remain staples of mid-century modern furniture design and architecture.
More Ico Parisi Designs