Alberon Dolls Ltd. Furniture
Loretta Antiques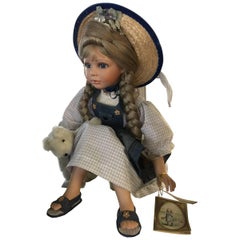 H 19 in. W 10 in. D 8 in.
Dimensions:
H 19 in. W 10 in. D 8 in.
Dealer Location:
London, GB
Materials & Techniques:
Porcelain
Porcelain Doll by Alberon Limited Edition
Alberon Dolls Ltd.
Antique 19th Century British Arts and Crafts Collectibles and Curiosities
Porcelain
This beautiful Alberon Doll is an individual numbered ltd edition doll. Quite rare now, definitely a collector's item. Can only go up in Value. Designed by Philippa Thornton. She is a ...