American, 1908-1986
Architect, designer, and writer George Nelson was a central figure in the mid-century American modernist design movement; and his thoughts influenced not only the furniture we live with, but also how we live.
Nelson came to design via journalism and literature. Upon receiving his bachelor's degree in architecture from Yale in 1931, he won the Prix de Rome fellowship, and spent his time in Europe writing magazine articles that helped bring stateside recognition to Ludwig Mies van der Rohe, Gio Ponti, Le Corbusier and other canonical modernist architects. In the 1940s, Nelson wrote texts that suggested such now-commonplace ideas as open-plan houses, storage walls and family rooms. D.J. De Pree, the owner of the furniture maker Herman Miller, was so impressed by Nelson that in 1944 — following the sudden death of Gilbert Rohde, who had introduced the firm to modern design in the 1930s — he invited Nelson to join the company as its design director.
There Nelson's curatorial design talents came to the fore. To Herman Miller he brought such eminent creators as Charles and Ray Eames, Isamu Noguchi, and the textile and furniture designer Alexander Girard. Thanks to a clever contract, at the same time as he directed Herman Miller he formed a New York design company, George Nelson & Associates, that sold furniture designs to the Michigan firm, as well as its competitor, the Howard Miller Clock Company. Nelson's New York team of designers (who were rarely individually credited) would create such iconic pieces as the Marshmallow sofa, the Coconut chair, the Ball clock, the Bubble lamp series and the many cabinets and beds that comprise the sleek Thin-Edge line.
For dedicated collectors, as well as for interior designers who look beyond "the look," there is a "cool-factor" inherent to vintage pieces from George Nelson and others. Nelson was in on it from the start, and it's valuable to have a piece that was there with him. But still, as is evident from the offerings from dealers on these pages, in any of the designs, in any iteration whose manufacture Nelson oversaw and encouraged, there are shining elements of lightness, elegance, sophistication — and a little bit of swagger. George Nelson felt confident in his ideas about design and didn't mind letting the world know.
Iconic Designs from George Nelson
Explore timeless pieces that have earned their place in history.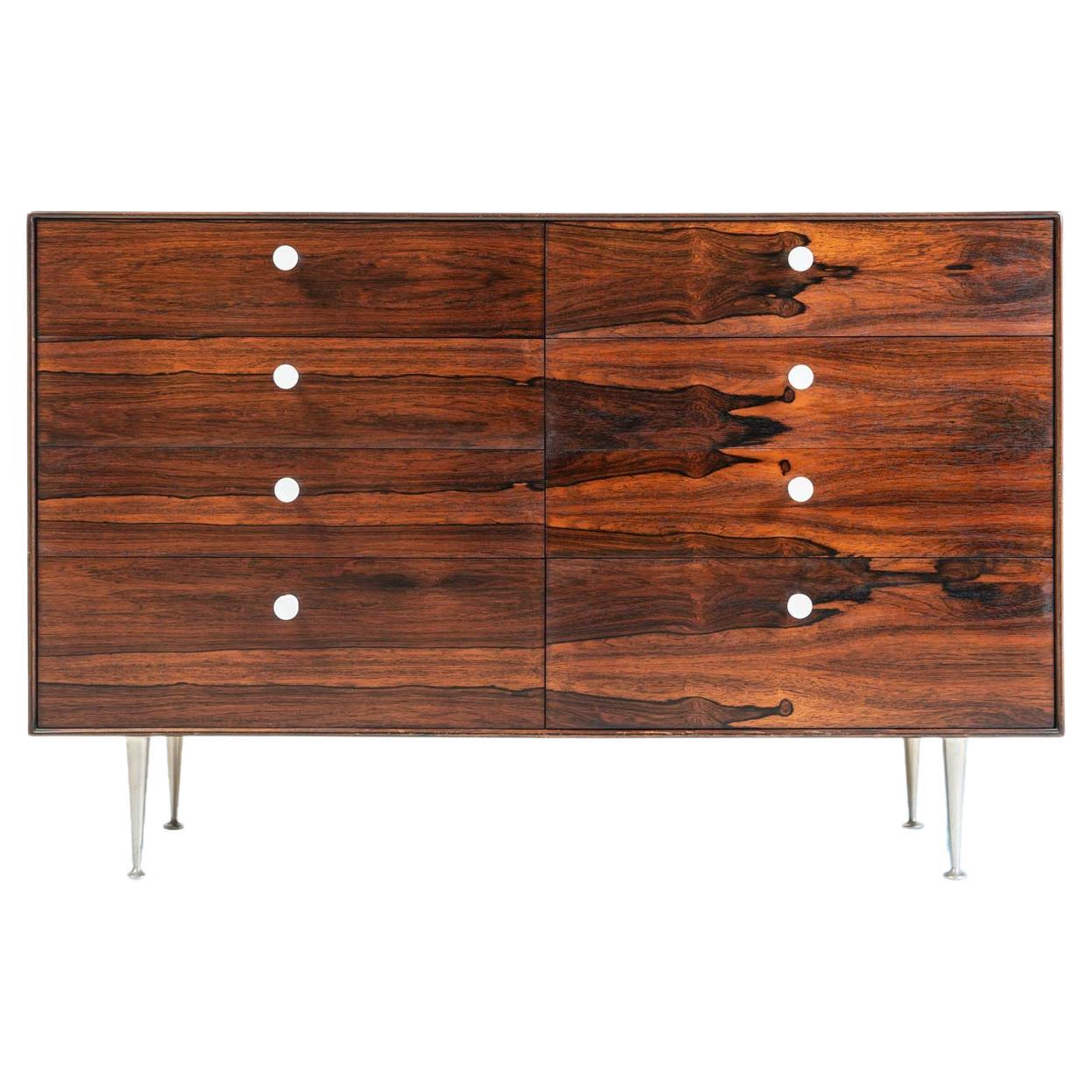 Thin Edge Group
Coconut Lounge Chair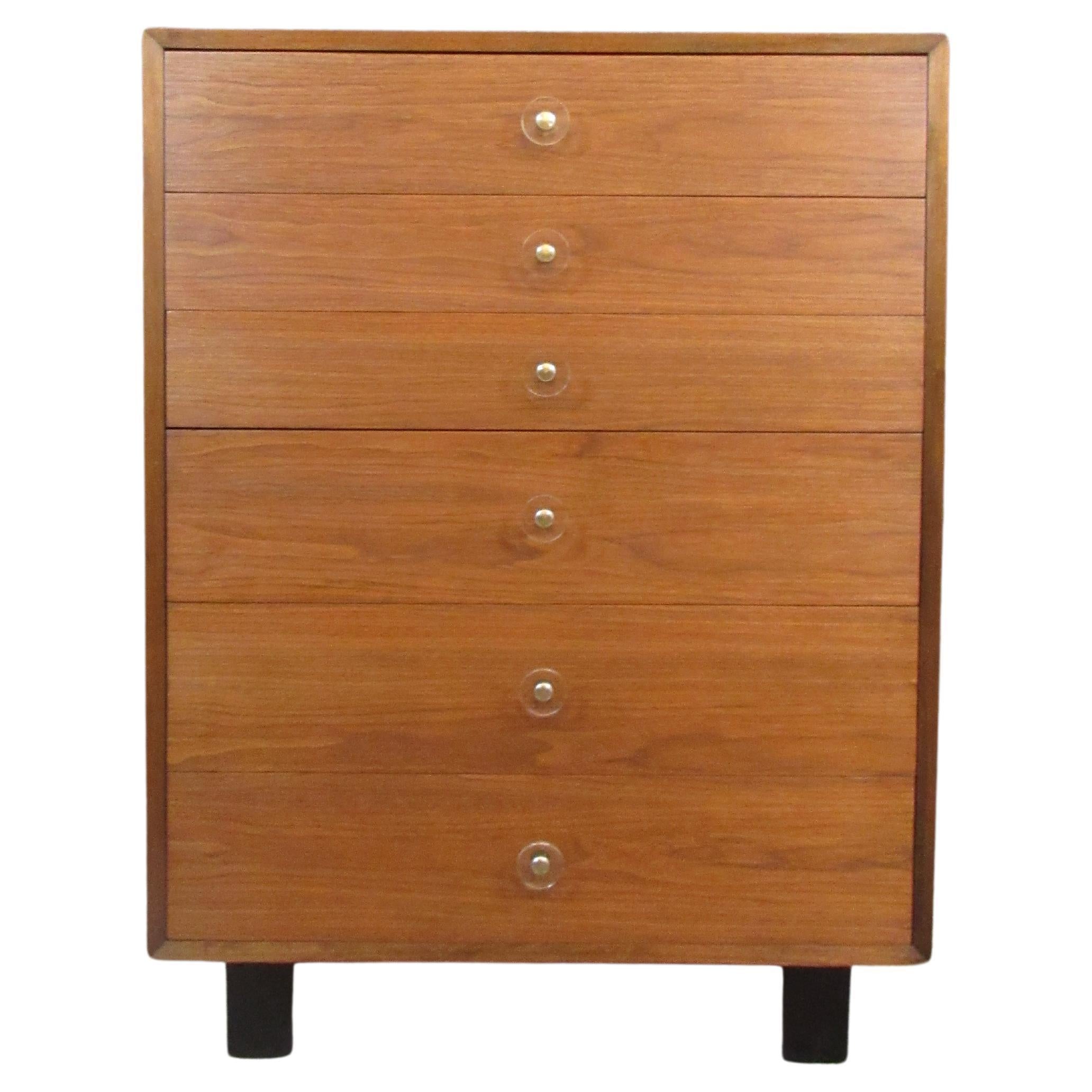 Basic Cabinet Series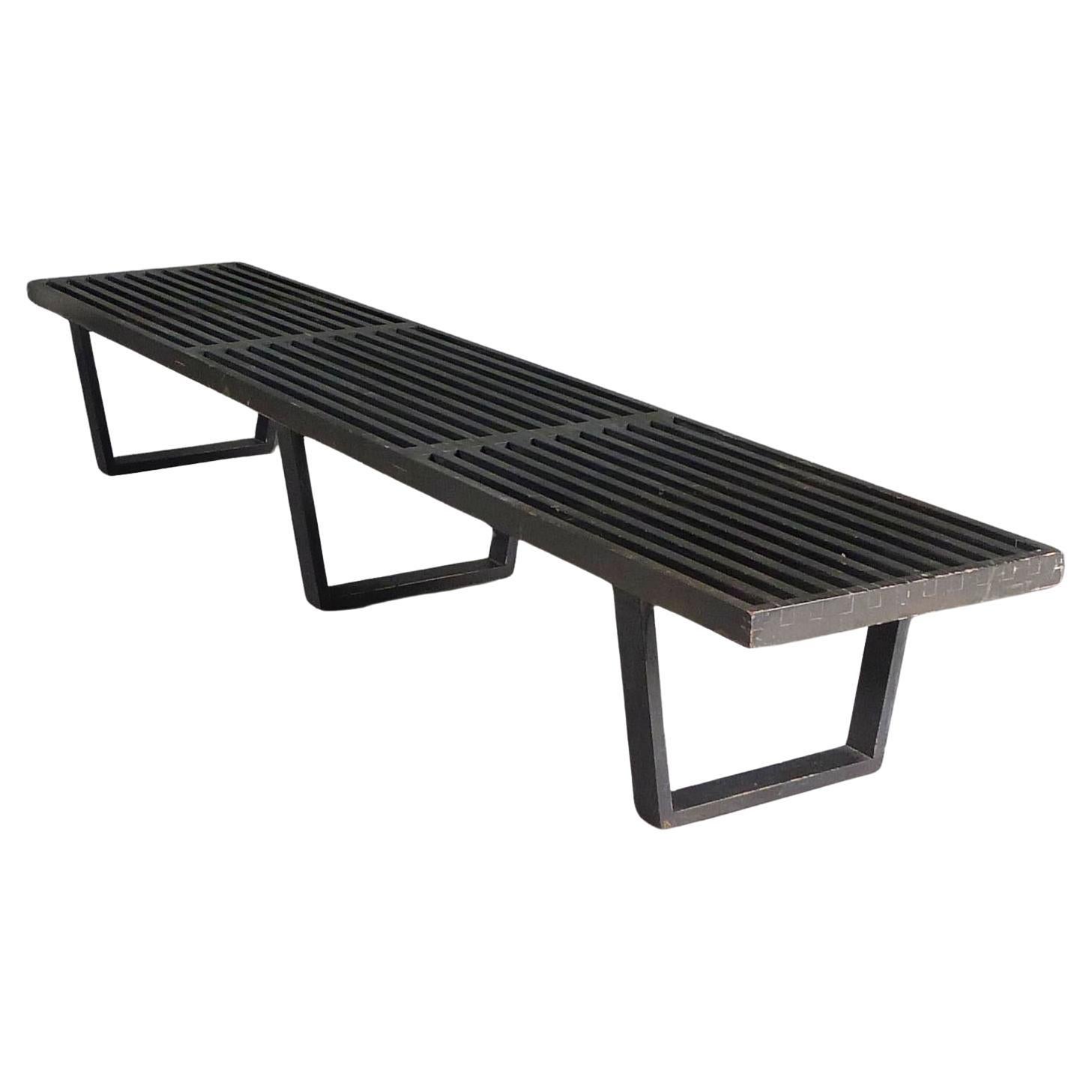 Platform Bench
Browse all Furniture from George Nelson
Shop Now
Creators Similar to George Nelson
More George Nelson Designs
George Nelson furniture for sale on 1stDibs.
George Nelson furniture are available for sale on 1stDibs. These distinctive items are frequently made of
wood
and are designed with extraordinary care. There are many options to choose from in our collection of George Nelson furniture, although
brown
editions of this piece are particularly popular. Many of the original furniture by George Nelson were created in the
mid-century modern
style in
north america
during the
20th century
. If you're looking for additional options, many customers also consider furniture by Widdicomb Furniture Co.,
Drexel
, and
Harvey Probber
. Prices for George Nelson furniture can differ depending upon size, time period and other attributes — on 1stDibs, these items begin at £125 and can go as high as £29,994, while a piece like these, on average, fetch £3,428.
Questions About George Nelson
1stDibs Expert

April 5, 2022

George Nelson was a furniture designer central to the mid-century modern design movement. His best-known creations are the marshmallow sofa, coconut chair, ball clock and bubble lamp series. His style included sleek, thin-edge lines on a variety of furniture still available today. Shop a range of George Nelson furniture designs on 1stDibs.

1stDibs Expert

April 5, 2022

George Nelson was an American designer, and for a time the lead designer for the famed Herman Miller furniture company. Nelson is often referred to as the founder of American modernist design and often associated with his more inspired pieces such as the Coconut Chair, Marshmallow Sofa and the Ball Clock. Shop a collection of George Nelson furniture designs from some of the world's top sellers on 1stDibs.

1stDibs Expert

March 22, 2022

Modern George Nelson clocks are made in Poland. The company Vitra Designs manufactures the timepieces based on the original designs of the American designer who lived from 1908 to 1986. On 1stDibs, you can shop a selection of George Nelson clocks.

1stDibs Expert

April 5, 2022

George Nelson Bubble Lamps are made of steel wires, which form a durable framework for the lamp. A plastic polymer material spread over the wires forms the shade which is translucent to give the lamp a soft glow. Inspired by Swedish lamps, these mid-century modern light fixtures are still made by the legendary furniture manufacturer Herman Miller today. Shop a range of George Nelson Bubble Lamps on 1stDibs.