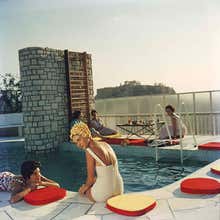 American, 1916-2006
American photographer Slim Aarons captured the 20th century's international jet set — U.S. socialites, European royalty, Hollywood stars — at play in sun-kissed locales like Monaco, Saint-Tropez and Palm Beach, as well as other luxurious settings around the globe.
Committed to eschewing makeup and artificial lighting, Aarons created images that are at once candid and polished, combining the relaxed posture of his subjects, who trusted him to document their lives, with the visual sharpness of a seasoned art director. Having gotten his start taking pictures for the U.S. military magazine Yank during World War II, he contributed over the course of his career to Life, Town and Country and Holiday magazines and published several books.
Aarons was born in Manhattan in 1916. He joined the army at 18, shooting military maneuvers at West Point before serving as a combat photographer, for which he was awarded a Purple Heart. After the war, he moved to California and began snapping socialites and movie stars. In the 1950s, he opened a bureau for Life magazine in Rome, where he took pictures capturing the postwar scene. Aarons was always able to win the trust of his elite subjects, who saw him as close to a peer, rather than a paparazzo. In a 2002 interview with The Independent, he remarked, ''I knew everyone. They would invite me to one of their parties because they knew I wouldn't hurt them. I was one of them.'' This access allowed Aarons to document the rich and famous with their guard down, reading newspapers and magazines, talking on the phone, relaxing by the pool, and chatting with friends. The 1957 photograph The Kings of Hollywood, for example, which won him wide acclaim, shows Clark Gable, Van Heflin, Gary Cooper and Jimmy Stewart laughing together as they celebrate New Year's Eve.
Many of Aarons's best-known images involve games and sports. In the 1972 Poolside Backgammon, two young women play the board game of the title against the backdrop of a majestic Acapulco estate. In 1958's Cannes Watersports, a couple attempts to glide across the Golfe de la Napoule on Jet Skis, one expertly and one hanging on for dear life. And in Penthouse Pool, shot in Athens in 1961, a young woman wearing a yellow bathing cap smiles coyly at the camera, surrounded by friends and brightly colored seat cushions, with the Acropolis faintly visible in the background. Among Aarons's books are 1974's A Wonderful Time: An Intimate Portrait of the Good Life, and its 2003 sequel, Once Upon a Time. His final book, A Place in the Sun, was published in 2005, one year before his death.
Find a collection of vintage Slim Aarons photography on 1stDibs.
Previously Available Items
Slim Aarons furniture for sale on 1stDibs
Slim Aarons furniture is available for sale on 1stDibs. These unique items are often made from
Paper
, and are designed with extraordinary care. There are many options in our Slim Aarons collection of furniture, although
black
editions of this piece are particularly popular. In-stock we have 4 vintage editions of these items, while there is also 0
modern
edition to choose from. Many of Slim Aarons' original furniture was created in the
Modern
style in
North America
during the
20th century
. If you are looking for additional options, many customers also consider furniture by
Barbara Kruger
,
Herb Ritts
and
Irving Penn
. Prices for Slim Aarons furniture can vary depending on size, time period and other attributes. Price for these items starts at
$265
and tops out at
$4,000
, while pieces like these can sell for
$2,298
on average.
Creators Similar to Slim Aarons