Americana and Folk Art Antiques and Collectibles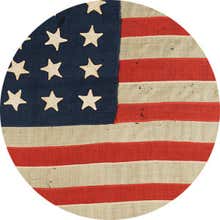 Americana and Folk Art (UNITED STATES, CA. 18th C.–20th C.)
Though the pieces are timeless, folk art emerged as a collecting genre only in the 1920s. Then as now, collectors focused on American artifacts. The earliest were prompted in part by the awareness of a nation changed: in that decade, for the first time the majority of U.S. citizens lived in cities, rather than on farms and in small towns. At the same time, the ascendance of modernism in art and design was countered by promoters of the Colonial Revival style. That movement drew from attics and barns old hand-carved furniture, stilted 19th-century family portraits, weathervanes and butter churns.
The best folk art items were purchased by an odd mix that included bohemians and intellectuals, along with J.P. Morgan and members of the Chrysler and Rockefeller families (who began funding, for instance, the restoration of Colonial Williamsburg in Virginia in the 1920s). If nostalgia played a role, the primary motivation for folk art collectors was — as it is today — a recognition of the artistic merit and cultural significance of pure, honest expressions of the human impulse toward beauty.
Simplicity is its hallmark, yet folk art defies a simple definition — and covers a vast amount of ground. Folk art has been called "the art of the everyday": objects created by people, with no formal training in the arts, for use in their daily lives. These include everything from tools and toys to quilts, baskets, jugs, dowry chests and duck decoys. Folk art is generally made by hand; works might be carved, sewn, chiseled, knitted, hammered, woven or embroidered and more. Such techniques were passed down through the generations — one reason folk-art collecting has been described as "a kind of archaeology." Folk art reveals the inherent values and traditions of a community, through time-honored crafts, decorative motifs and pictorial subject matter.
All folk art intrinsically reflects a sense of pride. "Americana" is folk art that does so overtly:  through work that honors civic ideals and celebrates national and local achievements. Americana includes flags, bunting, carved bald eagles, and needlework with allegorical figures representing Liberty and Democracy; or helmets and buckets used by a volunteer fire brigade; or the trappings of fraternal organizations such as the Oddfellows. Collectors of Americana typically also collect American antique furniture that, while made in the workshops of a master cabinetmaker or joiner, reflects regional stylistic traits, tastes and quirks.
Almost all folk art is anonymous — and the prominent exception being signed work by early 19th-century itinerant portrait artists like the New Englander Ammi Phillips, whose 1835 portrait of a young girl and her pets was the first piece of folk art to sell for $1 million at auction. Until relatively recently, work by Phillips and his ilk was the prime focus of folk art collectors: the folk art of the Northeast defined the category. But recently, more attention and more scholarship have been devoted to the folk art of other regions: to the South, and the artwork of enslaved African Americans and their descendants; and to the Southwestern and early Latino folk art. Born in a time of change, folk art collecting is changing along with the nation.