Modern Times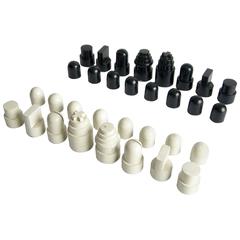 Dimensions:
H 3.63 in. Dm 1.5 in.
Dealer Location:
Chicago, IL
Allan Calhamer Chess Set
Allan Calhamer, Allan Calhamer
Vintage 1960s American Mid-Century Modern Collectibles and Curiosities
Painted wood chess set designed and made by Allan B. Calhamer, the inventor of the highly influential strategy board game "Diplomacy". From his NY Times obituary by Margalit Fox on Marc...