Ettore Sottsass Case Pieces and Storage Cabinets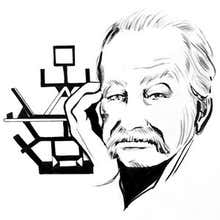 Italian, 1917-2007
An architect, industrial designer, philosopher and provocateur, Ettore Sottsass led a revolution in the aesthetics and technology of modern design in the late 20th century.
Sottsass was the oldest member of the Memphis Group — a design collective, formed in Milan in 1980, whose irreverent, spirited members included Alessandro Mendini, Michele de Lucchi, Michael Graves and Shiro Kuramata. All had grown disillusioned by the staid, black-and-brown "corporatized" modernism that had become endemic in the 1970s. Memphis (the name stemmed from the title of a Bob Dylan song) countered with bold, brash, colorful, yet quirkily minimal designs for furniture, glassware, ceramics and metalwork. They mocked high-status by building furniture with inexpensive materials such as plastic laminates, decorated to resemble exotic finishes such as animal skins. Their work was both functional and — as intended — shocking. Even as it preceded the Memphis Group's formal launch, Sottsass's iconic Ultrafragola mirror — in its conspicuously curved plastic shell and radical pops of pink neon — embodies many of the collective's postmodern ideals.
Sottsass's most-recognized designs appeared in the first Memphis collection, issued in 1981 — notably the multihued, angular Carlton room divider and Casablanca bookcase. As pieces on 1stDibs demonstrate, however, Sottsass is at his most imaginative and expressive in smaller, secondary furnishings such as lamps and chandeliers, and in table pieces and glassware that have playful and sculptural qualities.
It was as an artist that Ettore Sottsass was celebrated in his life, in exhibitions at the Los Angeles County Museum of Art, in 2006, and the Philadelphia Museum of Art a year later. Even then Sottsass's work prompted critical debate. And for a man whose greatest pleasure was in astonishing, delighting and ruffling feathers, perhaps there was no greater accolade. That the work remains so revolutionary and bold — that it breaks with convention so sharply it will never be considered mainstream — is a testament to his genius.
Ettore Sottsass case pieces and storage cabinets for sale on 1stDibs
Ettore Sottsass case pieces and storage cabinets are available on 1stDibs for sale. These distinctive objects are often made of
wood
and designed with extraordinary care. In our collection of Ettore Sottsass case pieces and storage cabinets there are many options to choose from, although
brown
editions of this piece are particularly popular. In-stock we have 12 vintage editions of these items, while there are also 12
modern
editions to choose from. Many of Ettore Sottsass' original case pieces and storage cabinets were created in
modern
style in
Europe
during the
21st century and contemporary
. Many customers also consider case pieces and storage cabinets by
Andrea Branzi
,
Memphis Group
and
Memphis Milano
, if you're looking for additional options. Prices for Ettore Sottsass case pieces and storage cabinets can differ depending upon size, time period and other attributes. The price for these items starts at
$1,015
and tops out at
$74,830
, while pieces like these can sell for on average
$15,000
.
Creators Similar to Ettore Sottsass