20CDesign.com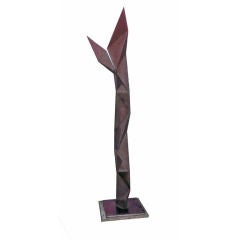 Dimensions:
H 9 ft. 6 in. Dm 11 in.
Dealer Location:
Dallas, TX
Materials & Techniques:
Steel
Sculpture by Aijiro Wakita as seen in "Iron Man"
Aijiro Wakita
Vintage 1970s Japanese Sculptures
Steel
Sculpture from the series "The Rust" by renowned Japanese artist Aijiro Wakita. This sculpture was in the film "Iron Man" The sculpture stands over 9 feet tall and looks very origami in...