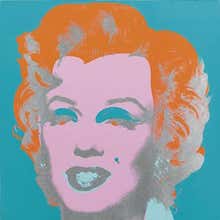 American, 1928-1987
The name of American artist Andy Warhol is all but synonymous with Pop art, the movement he helped shape in the 1960s. He is known for his clever appropriation of motifs and images from popular advertising and commercials, which he integrated into graphic, vibrant works that utilized mass-production technologies such as printmaking, photography and silkscreening. Later in his career, Warhol expanded his oeuvre to include other forms of media, founding Interview magazine and producing fashion shoots and films on-site at the Factory, his world-famous studio in New York.
Born and educated in in Pittsburgh, Warhol moved to New York City in 1949 and built a successful career as a commercial illustrator. Although he made whimsical drawings as a hobby during these years, his career as a fine artist began in the mid-1950s with ink-blot drawings and hand-drawn silkscreens. The 1955 lithograph You Can Lead a Shoe to Water illustrates how he incorporated in his artwork advertising styles and techniques, in this case shoe commercials.
As a child, Warhol was often sick and spent much of his time in bed, where he would make sketches and put together collections of movie-star photographs. He described this period as formative in terms of his skills and interests. Indeed, Warhol remained obsessed with celebrities throughout his career, often producing series devoted to a famous face or an object from the popular culture, such as Chairman Mao or Campbell's tomato soup. The 1967 silkscreen Marilyn 25 embodies his love of bright color and famous subjects.
Warhol was a prominent cultural figure in New York during the 1960s, '70s and '80s. The Factory was a gathering place for the era's celebrities, writers, drag queens and fellow artists, and collaboration was common. To this day, Warhol remains one of the most important artists of the 20th century and continues to exert influence on contemporary creators.
Find a collection of original Andy Warhol art on 1stDibs.
Andy Warhol art for sale on 1stDibs
1stDibs offers a wide variety of authentic Andy Warhol art for sale. If you're looking for art to add a pop of color to a neutral corner of your
living room
or
bedroom
, you can find work that includes elements of red, pink, orange and other colors. You can also search art by medium to find Andy Warhol in screen print, polaroid, silver gelatin print and more. Much of the original work by this artist or collective was created during the 20th Century and is mostly associated with the
Pop Art
style. Not every interior allows for large Andy Warhol art, so small editions measuring 1 inches across are available. Customers interested in this artist might also find the work of
Keith Haring
,
Francesco Scavullo
and
Jack Mitchell
. On 1stDibs, the price for these items starts at
$125
and tops out at
$1,425,000
, while the average work can sell for
$18,000
. .
Artists Similar to Andy Warhol
Questions About Andy Warhol Art
1stDibs Expert

March 22, 2022

Which of Andy Warhol's art pieces is his most famous is largely a matter of personal opinion. Some of his most well-known works include Marilyn Diptych, Campbell's Soup Cans, the "Cow" series, Mao, Dollar Signs and the "Flower" series. On 1stDibs, shop a range of Andy Warhol artwork.