Anna von Koranyi Furniture
Renaissance Man Antiques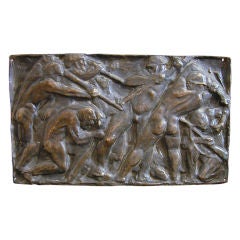 H 14 in. W 24 in. D 2 in.
Dimensions:
H 14 in. W 24 in. D 2 in.
Dealer Location:
Philadelphia, PA
Materials & Techniques:
Bronze
"Prying Coal," Art Deco Bronze Sculptural Panel wi...
Anna von Koranyi
Vintage 1920s Hungarian Art Deco Sculptures
Bronze
This extraordinary bronze panel by Hungarian artist Anna von Koranyi, depicting a group of nude miners working deep underground to extract coal, shows signs of Cubism and the impending ...