Anton Vasyutinsky Furniture
Ashville Fine Arts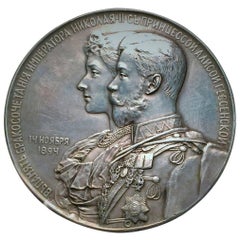 Dimensions:
H 0.19 in. Dm 2.8 in.
Dealer Location:
New York, NY
Materials & Techniques:
Silver
Anton Vasyutinsky, Russian Imperial Wedding Commem...
Anton Vasyutinsky
Antique 1890s European Romantic Desk Accessories
Silver
A rare and important Imperial Russian silver medal, commemorating the wedding of Emperor Nicholas II of Russia and Alexandra Feodorovna (Princess Alice of Hesse und Bei Rhein). Launched...