Andrey Lekarksi Furniture
Exante Antiques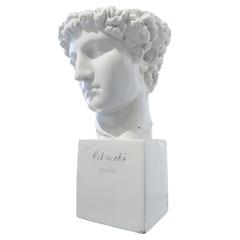 H 15.2 in. W 9.5 in. D 9 in.
Dimensions:
H 15.2 in. W 9.5 in. D 9 in.
Dealer Location:
New York, NY
Materials & Techniques:
Resin
Exceptional Neoclassical Sculpture by Andrey Lekar...
Andrey Lekarksi
Vintage 1970s French Sculptures
Resin
Molded lacquered resin. Michel Angelo inspired. Second son of general Krum Lekarski and Nadezhda Lekarska, born on December 2, 1940 in Sofia (Bulgaria). From 1954 to 1959 he studi...