Milo Baughman Building and Garden Elements
The average cost of an antique Milo Baughman Building and Garden Elements is $1,550. The price can vary from $1,250 and $1,850 based on the condition, age, materials and aesthetic value for a specific Milo Baughman Building and Garden Elements.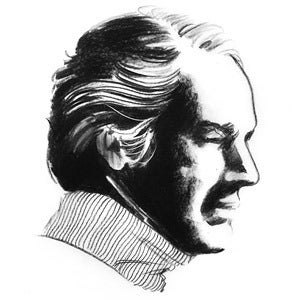 Milo Baughman (USA, 1923 – 2003)
Milo Baughman was one of the most agile and adept modern American furniture designers of the late 20th century. A prolific lecturer and writer on the benefits of good design — he taught for years at Brigham Young University — Baughman (whose often-scrambled surname is pronounced BAWF-man) focused almost exclusively on residential furnishings, having a particular talent for lounge chairs, perhaps the most sociable piece of furniture.
Like his fellow adoptive Californians Charles and Ray Eames, Baughman's furniture has a relaxed and breezy air. Baughman was famously opposed to ostentatious and idiosyncratic designs that were made to excite attention. While many of his chair designs are enlivened by such effects as tufted upholstery, Baughman tended to let his materials carry the aesthetic weight, most often relying on chair and table frames made of sturdy and sleek flat-bar chromed metal, and chairs, tables and cabinets finished with highly-figured wood veneers.
Like his colleagues Karl Springer and the multifarious Pierre Cardin, Baughman's designs are emblematic of the 1970s: sleek, sure and scintillating. As you will see from the furniture presented on these pages, Milo Baughman's designs are ably employed as either the heart of a décor or its focal point.
Archive 20th Century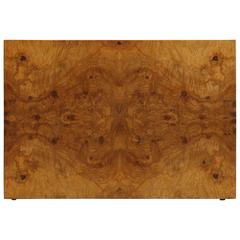 Large-Scale "Cube" Table or Pedestal by Milo Baugh...
Milo Baughman, Thayer Coggin
20th Century American Mid-Century Modern Pedestals and Columns
Burl
Large-scale burl wood cube table or pedestal by Milo Baughman for Thayer Coggin. This piece retains the original Thayer Coggin label.
COOCOOU27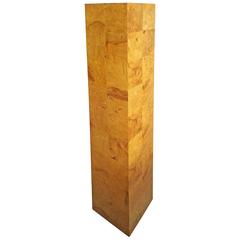 Modernist Burl Walnut Patchwork Pedestal by Milo B...
Milo Baughman
Mid-20th Century American Mid-Century Modern Pedestals and Columns
Burl
Modernist Burl Walnut Patchwork Pedestal by Milo Baughman c 1970