Alberic Plettinck Furniture
Handelshuis Wassenaar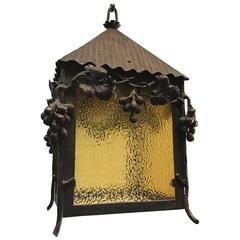 Unique Art Nouveau Wrougt Iron Pendant Light Porch...
Alberic Plettinck
Early 20th Century Belgian Art Nouveau Chandeliers and Pendants
Glass, Wrought Iron
Good size Art Nouveau collectible by iron-worker and artist, Alberic Plettinck (1879-1957). This forged in fire work of art is by one of the greats in this field and from this period. ...