Anthony J. (Tony) Sisti Furniture
COOCOOU27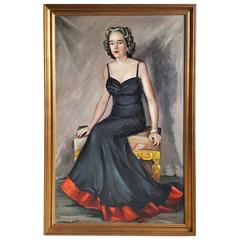 Oversized Oil on Board Portrait Painting by Buffal...
Anthony J. (Tony) Sisti
Vintage 1940s American Art Deco Paintings
Masonite, Oil Paint, Wood
Wonderful, large portrait oil painting depicting elegant seated woman, exicuted by reknowned Buffalo NY artist Anthony (Tony) SISTI. Amazing use of colors, texture and space, said to be...