A. Brault et Cie Furniture
Antiquites Rodriguez Decoration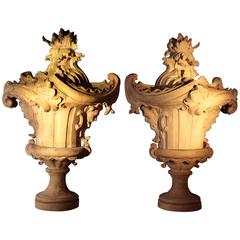 Pair of Rococo Style "Pots à Feu" Vases, A. Braul...
A. Brault et Cie
Antique 1880s French Rococo Revival Vases and Vessels
Terracotta
Powerful pair of rococo style "POTS À FEU" Vases, A. Brault Choisy-Le-Roy manufactory. Terra cotta, 19th century, circa 1880. The design of our vases epitomizes the fantastical a...