Kunstbureau Jens Buettner - Collection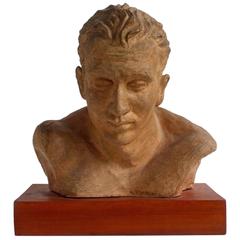 A. Pirelli, Athlete's Clay Bust Sculpture, 1950s, ...
A. Perelli
Vintage 1950s American Mid-Century Modern Sculptures
Clay, Wood
Intricate 1950s clay bust of an athlete signed by A. Perelli mounted a wood base. The work is in very good condition from all sides, nice patina. Base: W 11.5 in x D 7 in x H in. Sculpt...