Regan and Smith Antiques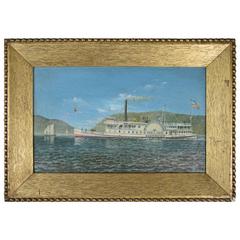 H 14 in. W 20.5 in. D 2 in.
Dimensions:
H 14 in. W 20.5 in. D 2 in.
Dealer Location:
Hudson, NY
Oil on Canvas Paddle Steamer Painting by Albert Ne...
Albert Nemethy
Vintage 1970s American Paintings
A very well done oil on canvas painting of a paddle steamer on the Hudson river done by noted artist Albert Nemethy. Albert was the scion of a family of painters from the Catskill Mount...