Anst v E. Hochdanz Furniture
Parke Interiors, Inc.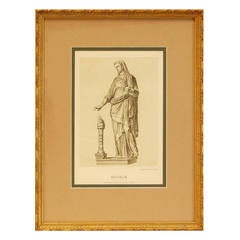 65% Off
19th Century German Print "Vestalin"
Anst v E. Hochdanz
Antique Mid-19th Century German Classical Roman Prints
Paper
Framed German Lithograph by Anst. V. E. Hochdanz, printed by The Hoffmann Printing House of Stuttgart Germany, mid-19th century. Visible print size: 7 1/8 x 10 5/8.