Fritz & Hollander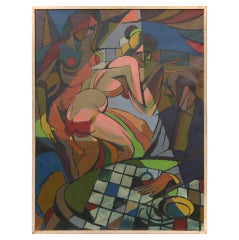 Dimensions:
H 4 ft. 1 in. Dm 37 in.
Dealer Location:
New Rochelle, NY
Materials & Techniques:
Canvas, Oil Paint
Cubist "Nightclub" Painting
A. McNamara
Vintage 1960s American Mid-Century Modern Paintings
Canvas, Oil Paint
A.McNamara, an American artist, painted in the style of cubism, inspired by Picasso. Two burlesque ladies, entertaining a patron, painted in vibrant, sharp colors with striking angles, ...