Lefflers Antiques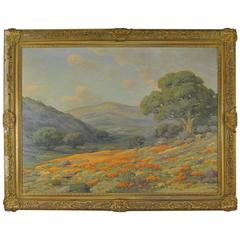 Dimensions:
H 36 in. W 4 ft. D 4 in.
Dealer Location:
Toledo, OH
Materials & Techniques:
Oil Paint
Poppies Oil on Canvas Hillside Near Bakersfield, C...
Angel Espoy
Mid-20th Century American Other Paintings
Oil Paint
A beautiful rendition of poppies from the rolling hills of Bakersfield, CA by Angel Espoy, 1879-1963. Signed on the lower left corner and a copyright on the back. The image size is 37" ...