Alexis Dukelsky Furniture
Renaissance Man Antiques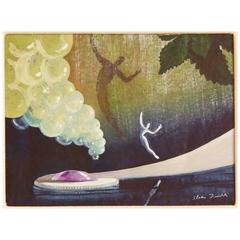 H 7 in. W 8.5 in. D 1 in.
Dimensions:
H 7 in. W 8.5 in. D 1 in.
Dealer Location:
Philadelphia, PA
"Dance Moderne," Dramatic Depiction of Dance in Ar...
Alexis Dukelsky
Vintage 1940s American Art Deco Paintings
This dance fantasy, depicted a modern dancer in a Moderne world, complete with a saucer-shaped building at the floor of the scene and a Cascade of bubbles rising up, was painted in goua...