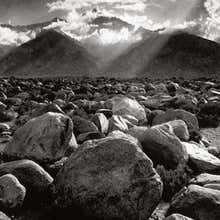 American, 1902-1984
The San Francisco–born photographer Ansel Adams is celebrated for his majestic black-and-white photography that brought the deserts, mountains and forests of the American West to the public. His images, beloved for their raw beauty and the magic of their subjects, are known around the world and widely reproduced as calendars and posters.
A sickly child with little attraction to sports or games, Adams early on developed an avid interest in the natural surroundings of his San Francisco home, on the heights facing Golden Gate Park. This passion found a productive outlet in photography, which he discovered at 14, when his father gave him his first camera during a family trip to Yosemite National Park. He spent much of the ensuing decades capturing Yosemite's vast and varied wonders.
Adams's photographs were first published in 1921. Even these early efforts demonstrate his eye for composition and his sensitivity to tonal balance and textural contrast. In the mid-1920s, he began to play with soft focus, as in the dreamy 1927 Lyell Fork Meadows, which appears bathed in a hazy, nostalgic light. The 1948 Sunrise over Sand Dunes in Death Valley exemplifies Adams's later experiments with stark contrasts in light and geometric framing, which transform the landscape into a near abstraction.
Find a collection of Ansel Adams photography today on 1stDibs.
Ansel Adams Special Edition Yosemite Silver Gelatin Photograph Print Vernal Fall
Located in Studio City, CA
A wonderful image by famed American photographer Ansel Adams from his Yosemite series titled "Vernal Fall". The Yosemite special edition series consisted of 30 images that were hand-...
Category
20th Century American Modern Ansel Adams
Previously Available Items
Ansel Adams furniture for sale on 1stDibs
Furniture by Ansel Adams is available for sale on 1stDibs. These unique items are often made from
Paper
, and are designed with extraordinary care. In our Ansel Adams collection, there are many options to choose from, although
beige
editions of this piece are particularly popular. In-stock we have 1 vintage editions of these items, while there is also 0
modern
edition to choose from. Many of Ansel Adams' original furniture was created in the
Modern
style in the
United States
during the
20th century
. Many customers also consider furniture by
Herb Ritts
,
Norman Rockwell
and
William Claxton
if you are looking for additional options. Ansel Adams furniture prices can vary depending on size, time period and other attributes. The price for these items starts at
$995
and tops out at
$995
, while pieces like these can sell for
$995
on average..
Creators Similar to Ansel Adams