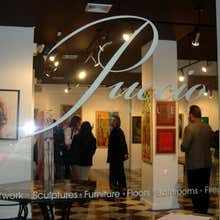 About Puccio Fine Art
Founded in New York in 2003, by third generation art collector, Lucia Giudice Puccio Fine Art specializes in buying and selling Impressionist, Abstract Expressionist, Pop, Surrealist, Contemporary and Modern masterworks. In addition to acquisition services for private collections, Puccio Fine Art assists individuals and institutions with collection management, fine art investment portfolios, insurance valuation, authentication and provenance research. We strive to provide the finest artwork to our collectors at the best possible price points.
Sam Francis art for sale on 1stDibs
Find wide variety of authentic Sam Francis art available for sale on 1stDibs. You can also browse by medium to find art by Sam Francis in lithograph, screen print and more. Much of this artist's original work was created during the 20th century and is mostly associated with the
abstract
style. Not every interior allows for large Sam Francis art, so small editions measuring 22 inches across are available. Customers who are interested in this artist might also find and find the work of. On 1stDibs, the price for these items starts at $NaN and tops out at $NaN, while the average work can sell for $NaN.